---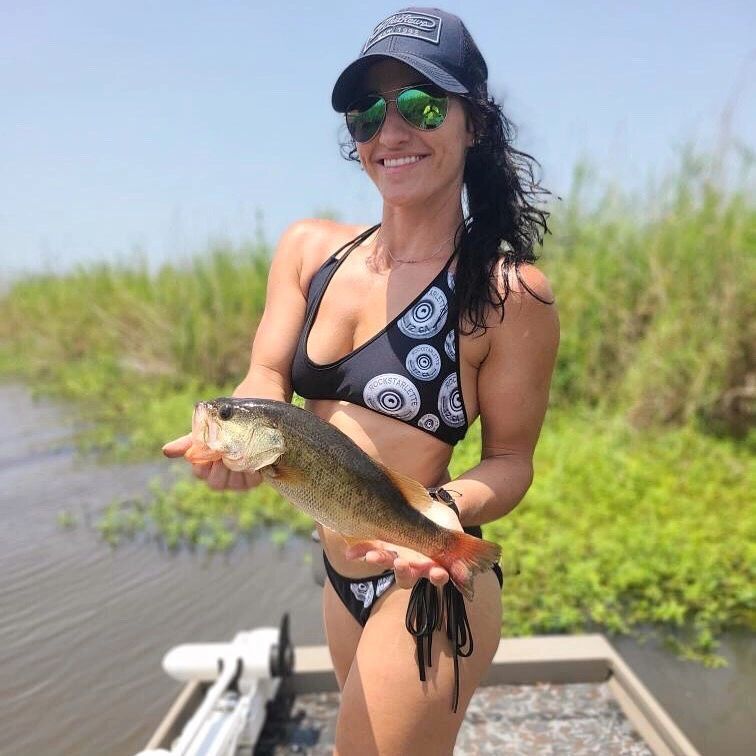 Representing RO in Louisiana: Laikin
 "I am from Grand Chenier, Louisiana where the outdoor lifestyle is known as a religion in this small town. Growing up as my dads sidekick in the outdoors, I've learned so much - from conservation to harvesting. My fondest memories are growing up with my twin brother at my dads feet in a deer stand. I live for new adventures and and making memories. I am into fitness, I am a Certified Personal Trainer who enjoys mud runs and training. Training plays a huge part into my life outdoors. Although filling the freezer is the true prize to fishing and hunting - making memories with my family and friends is also what its all about for me. We enjoy frogging, bowhunting, shrimping, crabbing, gator hunting, fishing and bowfishing. My favorite thing is fishing tournaments with my dad, we are the true dynamic duo! My husband and I are expecting a little boy soon and we can't wait to raise him up in the outdoors just as we were! "
---


Representing RO in Arizona: Charr
Charr grew up in Eagle River, Alaska. The outdoors has always been a big part of her life: fishing, hiking, camping, shooting, hunting, and traveling. Soon after High School she started working for a Law Enforcement agency in Alaska as their front-line Recruiter and after getting her undergraduate degree she attended the University of Cincinnati and completed her Mas
ters Degree in Criminal Justice. She is passionate about the outdoors. She grew up fishing for salmon and trout with her father on the Russian and Kenai River in Alaska. After relocating to Arizona she picked up bass fishing and enjoys local fishing tournaments in the Phoenix area. As a passionate 2A supporter, Charr has been published in various tactical/firearms magazines such as World of Firepower Magazine, Recoil, Ballistic Magazine, and Personal and Home Defense Magazine. She has always had a passion for helping people and believes in giving back to the community as much as she can. Charr loves to empower women and continually inspires others to get outdoors. She truly believes in living your life to the fullest each and every day. Every weekend you'll see her wandering in the great outdoors and traveling. People forget the beauty of nature. Charr believes that jobs fill your pocket, but adventures fill your soul. Charr perfectly represents our company motto of "Encourage. Inspire. Empower." 
---
Representing RO in New Mexico: Jessica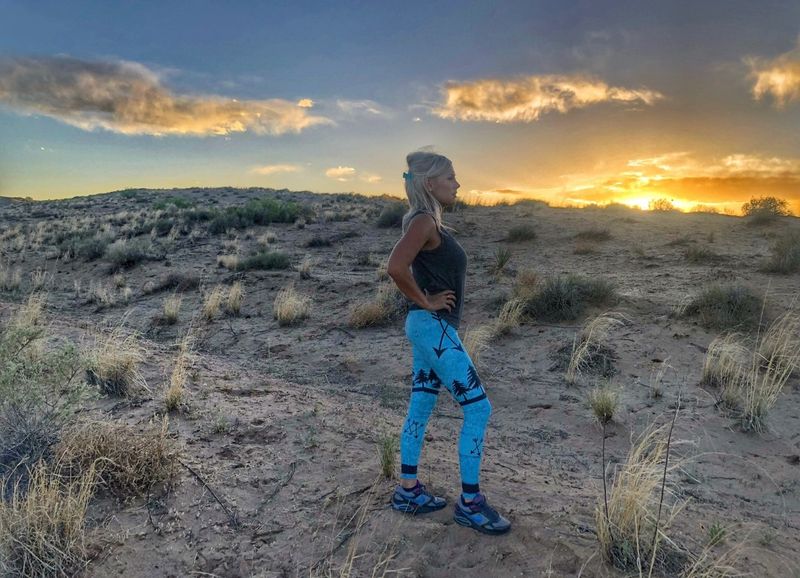 In her own words, "I'm a small town, New Mexico girl, wife and mother of two amazing boys. My love for the outdoors started when I was a little girl and has continued to grow into a lifestyle I love and share with my family. Before becoming a stay at home mom, my passion and work was helping those in need. I would often prescribe outdoor activities as means of th
erapy: Getting outside, challenging yourself, trying something new! I believe getting outdoors can be the best medicine. Whether I'm fishing on the lake, shooting my bow or walking with my boys, I'm soaking it all in, living in the moment and taking any adventure I can get! Being a part of Rockstarlette Outdoors is a great place to share my love for the outdoors, support others with their own adventures and connect with some amazing women! I am so grateful to be a part of such an amazing sisterhood!"
---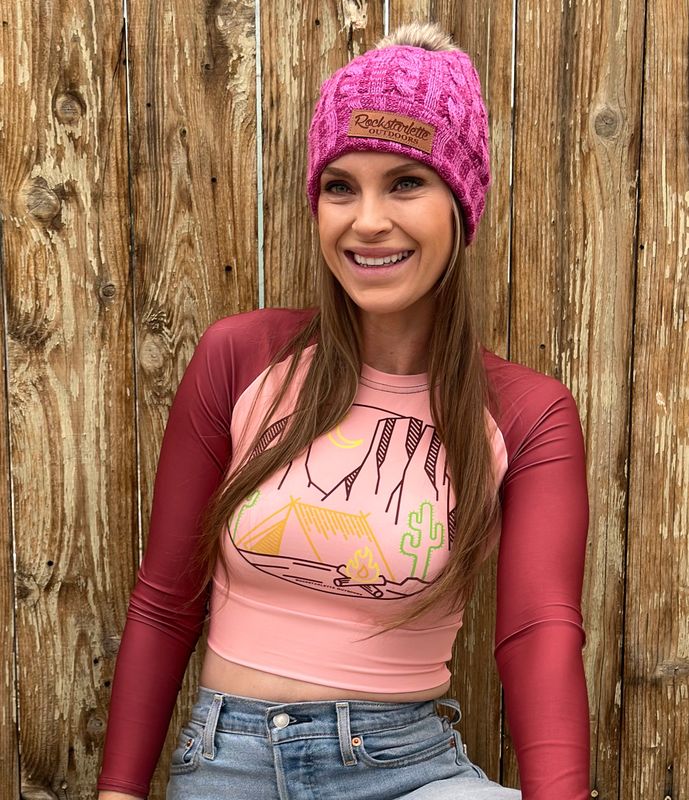 Representing RO in Nevada: Jenna-Lee
Jenna-Lee was born and raised in South Africa. Her love for the outdoors came at a young age when her family would fish the many gorgeous beaches of South Africa. Her upbringing brought a deep connection to nature. Jenna-Lee moved to Canada as a teenager and then
to Montana in 2018 where she found a new passion, archery. Her love for archery was unexpected and has now become a huge part of her life, not only for herself but for her three children. Jenna-Lee currently lives in Nevada and is trying to get her family back to Montana. Outside of raising her family and archery, Jenna-Lee is an author of two novels and occasionally sings badly while trying to play guitar!
---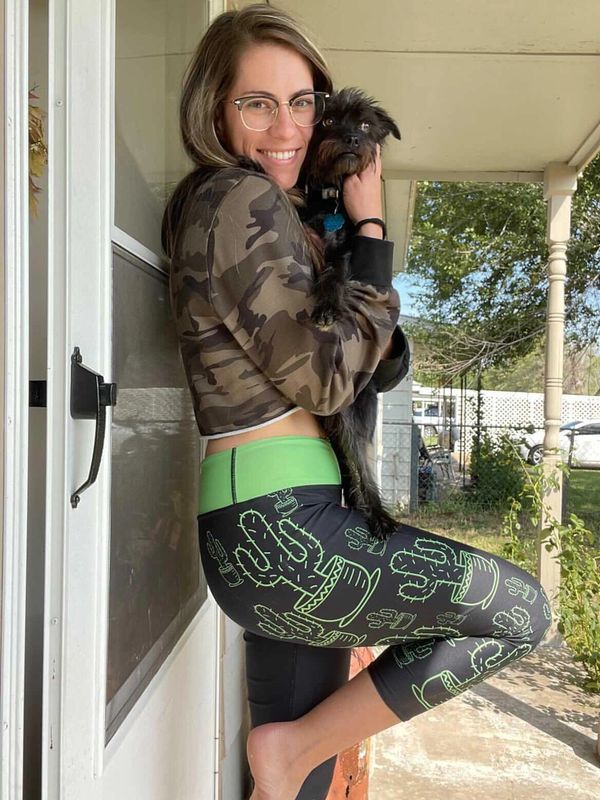 Representing RO in Oklahoma: Bethany
In her own words: "I'm from the middle of God's country, Oklahoma. I'm grateful for the outdoor life I was born into. I started competing in archery at the age of seven and still continue to do so. Archery has always been very important to our family, so much so that my son's name is Archer. I have a true passion for the outdoors and helping to encourage other women. I have hunted and fished all over the US and Canada. I love fishing and doing everything the diverse state of Oklahoma has to offer. I also love running, working out and hiking. If it involves being outside Archer and I are there! I've worked for the Oklahoma wildlife department in the past and I now work for the USDA-FSA taking care of America's farmers and ranchers. I'm always looking to learn and improve in my life and love this great opportunity to be a part of Rockstarlette Outdoors, they have such a wholesome outlook for women in the outdoors!"
---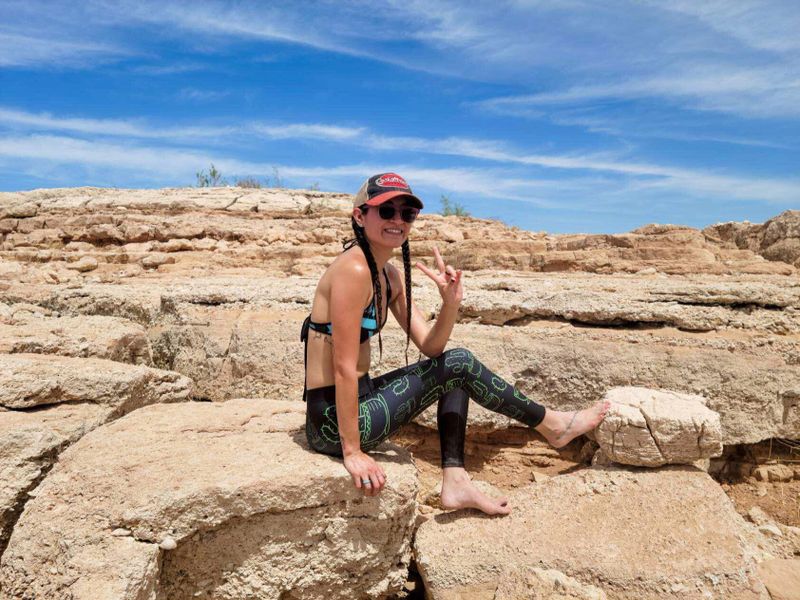 Representing RO in Nevada: Lorina
"I am born, raised, and currently reside in Las Vegas, Nevada. When most people think of Vegas it's all about the bright lights. However, for me, it's about trying to get out to the beautiful mountains surrounding the city instead. I fell in love with being outdoors when I was little and my family would spend weeks during the summer at Mount Charleston. While some adults were in RVs, all the kids were in tents and from there my love for adventure grew. We would wander off as far as we could, and as I grew older I have kept that love for the outdoors. I still love to camp, hike and wander through the woods. But I have also fallen in love with shooting my .308 rifle, fishing at the lake, and most recently going off-roading in our truck. I am lucky I get to enjoy all these adventures with my wife who also pushes me to try new things. I am excited to be a part of Rockstarlette Outdoors and to have more women to Encourage, Inspire and Empower me. I hope that I get to do the same for others
---


Representing RO in Pennsylvania: Rebecca
In her own words: "I was born and raised in Pennsylvania. I have spent my entire life in the outdoors, I have both my parents to thank for my passions. Since before I could walk, my parents made the wilderness my babysitter. I am an avid hunter of most game, Archery Whitetail, Waterfowl, and Spring Turkey being top of my list. I love fishing anything and everything, Musky my number one pursuit. I love hiking and camping, especially in the fall when the leaves are turning. I have been Cross Country Skiing since the age of five...my favorite cardiovascular workout. My newest pursuit has been kayaking and kayak angling, which I have to say has stole my heart. My home life revolves around living off the land...a huge garden, 
Fall and Winter harvests, and alot of firewood fuel our home. I am also very passionate about writing and I find inspiration in the outdoors life that I live everyday. 
I am so proud to be a part of Rockstarlette Outdoors. This company embraces and embodies EVERYTHING that I believe in. I am fortunate to have been raised in an environment that has aloud me to grow in the outdoors, as well as life. I look forward to paying it forward by Encouraging, Inspiring, and Empowering others to do the same."
---


Representing RO in Wyoming: Diane
In her own words, "I am a true Wyoming-ite, born and raised. Wild things and wild places have always been a part of my life. I grew up in a family that enjoyed the outdoors, fishing, canoeing, hunting, camping, snow shoeing and more. I enjoy the outdoors with my family, my friends and helping others savor our wonderful resources. I feed my passion for the out
doors by teaching Hunters Education with the Wyoming Game & Fish Department, pistol and shotgun clinics and survival classes to our local 4h youth. I love the unique, fun clothing line and sisterhood that Rockstarlette Outdoors promotes, and having a matching clothing line for our younger generation speaks volumes for inspiring our youth. Encouraging our sisters to succeed in such a positive environment is powerful." 
---


Representing RO in California: Sasha
I was born and raised in northern California. My dad's side of the family are from Alabama and I would visit there every year. I Learned to love the outdoors with my uncle and dad. I absolutely love turkey hunting. I am a hounds woman and  have 6 hounds that I love to take out whenever possible. I also am very big into 4wheeling, dirtbike riding ,camping, UTV racing, and concert going. I've been rock crawling for the past 15 years and being out in the mountains challenging yourself over obstacles is such a rush.  I love showing the boys how it's done!  I love being a part of Rockstarlette Outdoors and encouraging  women to try new things and get outside!
---




Representing RO in Canada: Mandy
 In her own words, "I grew up in Northern BC, Canada, where my parents introduced me to the outdoor lifestyle from a very young age. My earliest, and fondest, memories involve fishing for salmon, camping, hunting, hiking in the woods, picking berries, and playing in my mom's garden. I don't think I really appreciated my time in the outdoors, until I missed being outside in the fall during my studies at university. I realized what an important impact it had, and continues to have, on my mental health and wellbeing. I feel truly connected to myself, my roots, and the land when I'm outdoors. Being an outdoors woman is an empowering experience. I look to Encourage, Inspire, and Empower other women to get out and enjoy themselves doing any outdoors pursuits!"
---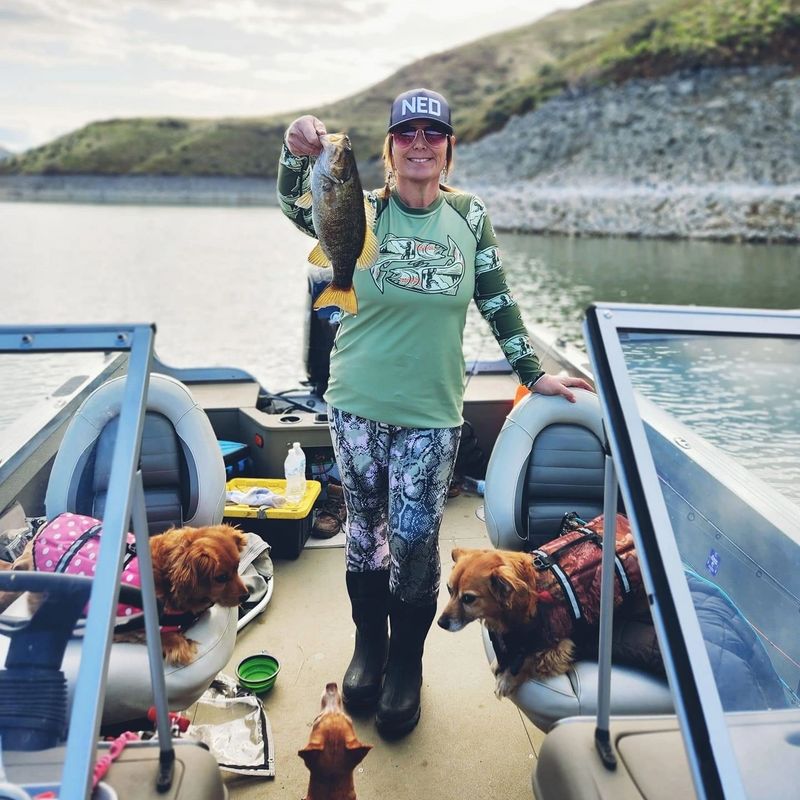 Representing RO in Idaho: Shannon 
In her own words:
"I have been incredibly blessed to have such an outdoorsy family.  I enjoy sharing my outdoor adventure stories through writing. I have been honored to have my stories featured in several magazines and online blogs. I have a great love for fishing, especially ice fishing. I couldn't think of anything I would rather be doing during the cold winter months! In the spring I enjoy competing in 3-D archery shoots, looking for Sheds, and looking for morel mushrooms. During the summer you will find me camping every weekend in the gorgeous mountains of Idaho and riding atv's in search of new and exciting scenery. In the fall you will find me bowhunting! I am so thrilled to be a part of the Rockstarlette Outdoors team and everything that they stand for! Encourage, Inspire, Empower!"
---
Representing RO in Montana: Kelsey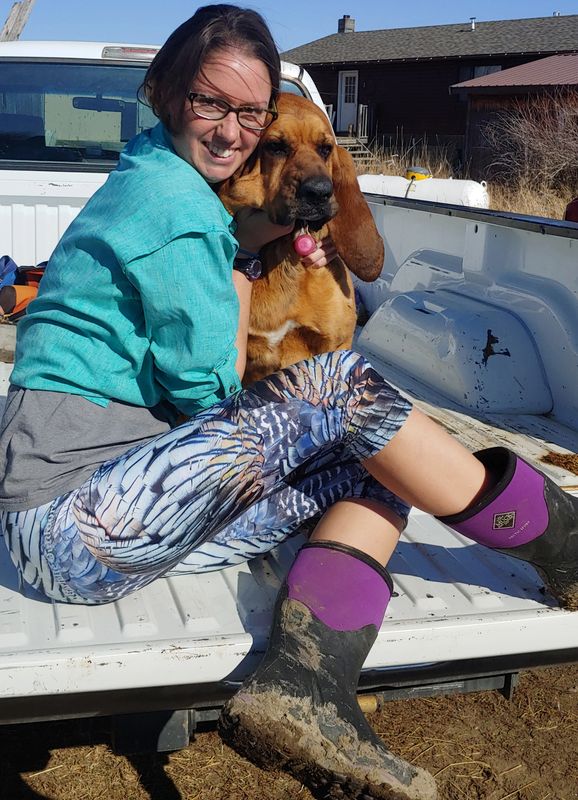 In her own words, "Growing up on a lake in WI made me an outdoors woman from the start. I became a Certified Vet Tech and mustang trainer in Montana. Any chance I get I am archery hunting in the mountains for elk, riding horses, catching catfish, or looking for sheds with my dogs. When I'm not running the mountain I love partaking in 5k races with my dogs and helping shelter pets. I love traveling the country meeting like minded country women. I get to share and empower others with my love for the outdoors through Rockstarlette Outdoors gear!"
---
Representing RO in Arizona: Megan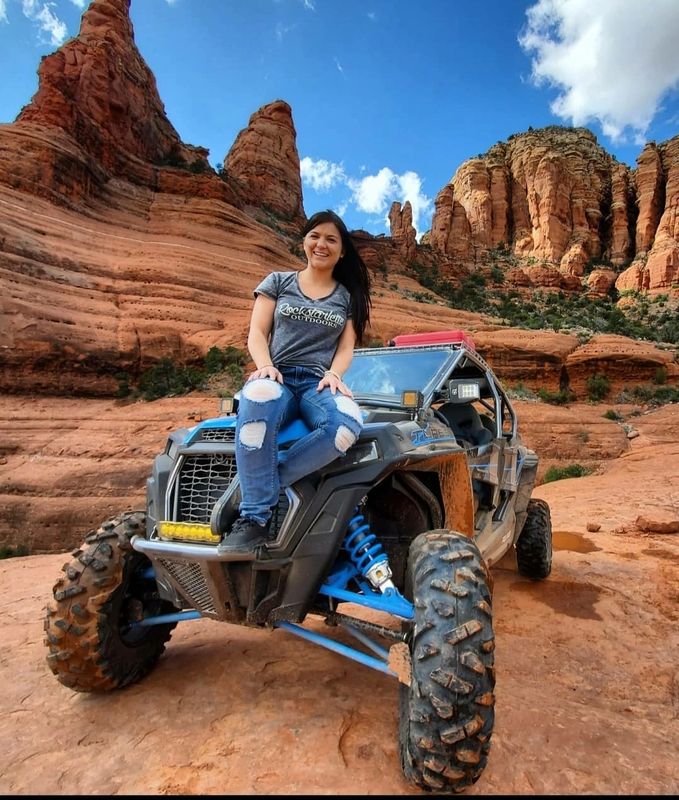 "I am a desert rat and a native of Arizona. Ever since I can remember, my parents made sure we were always outside living life. Being inside watching TV or playing video games wasn't an option. Every weekend, we packed up the truck and headed out on some type of Arizona adventure – fishing, hiking, ex
ploring, camping, boating, four wheeling, riding dirtbikes/quads, etc. I carried these same values into my adult life and I couldn't imagine life without my outdoor activities! Some of my favorite outdoor activities include hiking, backpacking, camping, shooting, hunting for petroglyphs, archery, fishing, four wheeling in my RZR, kayaking, kayak fishing, yoga, and bird hunting! I feel so fortunate to be a part of Rockstarlette Outdoors because the brand empowers women! We live in a world where people would rather be mean/criticize others instead of lifting them up and Rockstarlette Outdoors breaks that mold by bringing women of the outdoors together!" 


---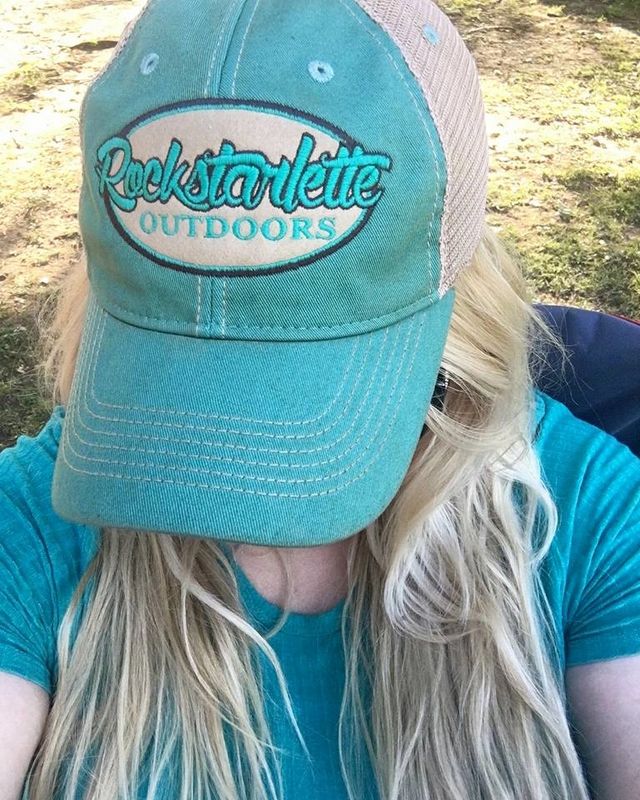 Representing RO in Oklahoma: Courtney S
In her own words, "I'm from a small town in Oklahoma. I have always had a love for the outdoors. That love grew when I discovered archery in 2014. I love to fish and hike, anything involving the outdoors. One of my favorite things to do is kayak fish with my husband, Cameron. We have 3 daughters, Camden, Delilah and Lillian and they all enjoy the outdoors as well. I love being a part of Rockstarlette Outdoors because of the mission, and how it's connected me to other wonderful women. It's incredible to see women supporting women, and I'm proud to be a part of a brand that's focused on that"
---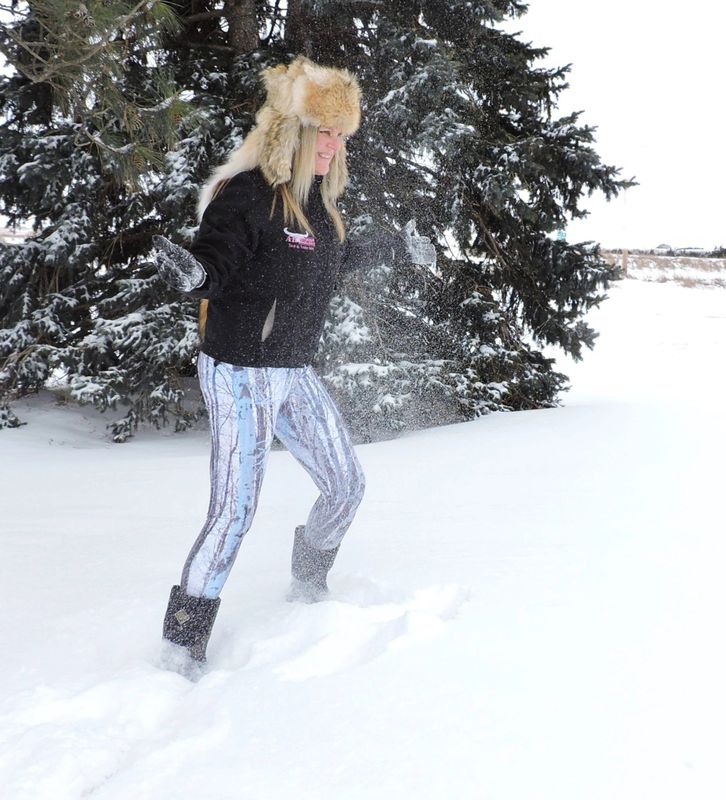 Representing RO in Nebraska: Angie
In her own words:"I grew up tagging along with dad on bird and coyote hunts, and now he tags along with me! My parents both instilled a love for the outdoors in me and along with my husband have been great encouragers and a huge support system for my crazy habits. I love everything outdoors including fishing and trapping. I've been bowhunting for 20 years and am also self taught in spear hunting. Challenging myself is my greatest adventure! I also love gardening, canning my own food and making custom jewelry and belts! I am very passionate about sharing what I love with others and helping them get a start on their outdoor adventures. Rockstarlette Outdoors is a wonderful group and platform to continue that and I'm grateful for the opportunity to be on this team!"
---


Representing RO in Washington: Shannan 
Shannan inspires us every day with her strength, positivity and commitment to health. She has survived not one, but TWO brain tumor surgeries and is stronger than ever and more committed to helping others achieve their own health and fitness. Shannon fell in love with Rockstarlette Outdoors when she attended one of our Ladies Group Adventure Camping trips and joined our team a year later. She is a hair stylist, personal fitness coach, mother and wife and divides her time between Washington and Alaska.
---
Representing RO in Minnesota: Missy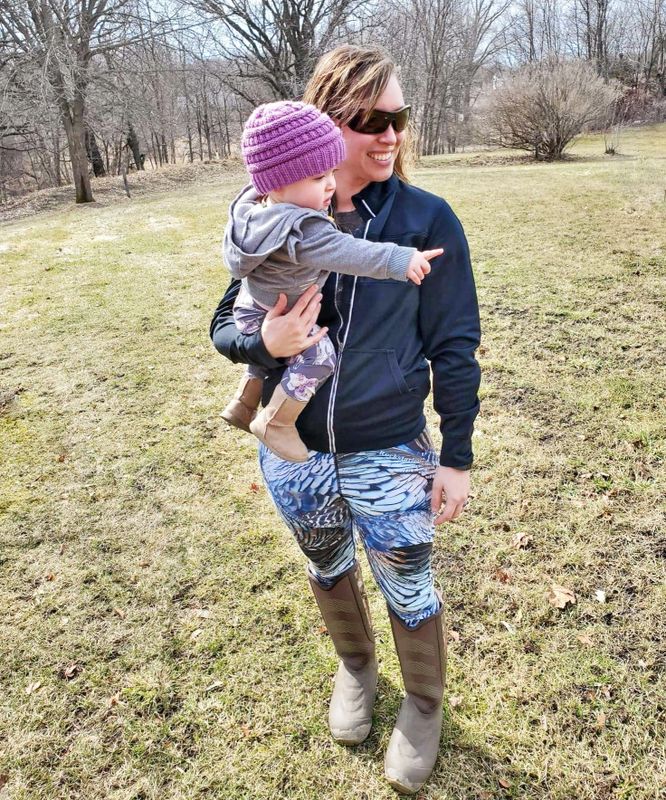 In her own words, "I grew up in a very outdoor oriented family, from fishing to cross country skiing. My sister and I spent many years perfecting the art of falling asleep on a 5 gallon pale in the deer stand and not falling over. Through the years I've learned a lot of things....patience was a big one but mainly...it isn't about the hunt it's about the experience and the memories that you make. These are things I want to share with our little girl one day. My husband and I enjoy a lot of out door activities together fishing, camping but mainly we enjoy exploring/hiking. We have tried to hit as many state and national parks as we can together. My main hobby though is trapshooting. I shoot competitively and I volunteer coach for a local high school team. Ironically, one of my main competitors is a young lady on the team I help coach. It is great to watch her kick some butt, even though more often then not she's kicking mine! Trapshooting is a mind game for sure it's you, the gun and that piece of clay flying through the air. One wrong move and you miss. Trapshooting is something I share with my dad and the big bet of the day is loser buys ice cream...so either way it's a win because we still both get ice cream! I'm excited to be a part of the RO team because I love what the motto stands for, we all need a little more positivity in our world and women supporting women is the way to do it!"  
---
Representing RO in California: Melissa
In her own words, "I grew up in the concrete jungle of the city and discovered my love of firearms and the outdoors as an adult. I didn't grow up with anyone teaching me about shooting, I discovered my interest when I got to test out a full auto SCAR in AZ for the first time. I was hooked. I went back home to San Diego and started shooting guns at my local range, found a trainer for competition shooting and 3 months later I was competing in USPSA matches and local steel matches. I'm now a certified NRA Instructor, Defensive Handgun Instructor through Force Options USA, the Marketing & Social Media Manager for San Diego County Gun Owners and the co-host of Gun Owners Radio. I am also a co-host on several gun related podcasts and I volunteer as a mentor at shooting socials, teaching new female gun owners how to shoot with proper gun safety. In addition to shooting I also enjoys hiking, camping and landscape photography."
Please join us in welcoming Mel to the Rockstarlette Outdoors team!! You can shop on our website with her coupon code mel10 for 10% off any order!! If you share her passion for guns, check out our gun logo section for our 2A, handgun and shotgun logo designs!!
---
Representing RO in Louisiana: Colleen
"I was born and raised in South Louisiana. I'm just your average country/Cajun girl that loves to get muddy and spread laughs. I love any and all outdoor adventures, if I haven't done it yet, I want to learn! I love hiking, exploring the outdoors, and traveling to different states to experience all of the different forms of nature, and try to learn as much as I can."
---