Representing RO in Alaska:  Jessica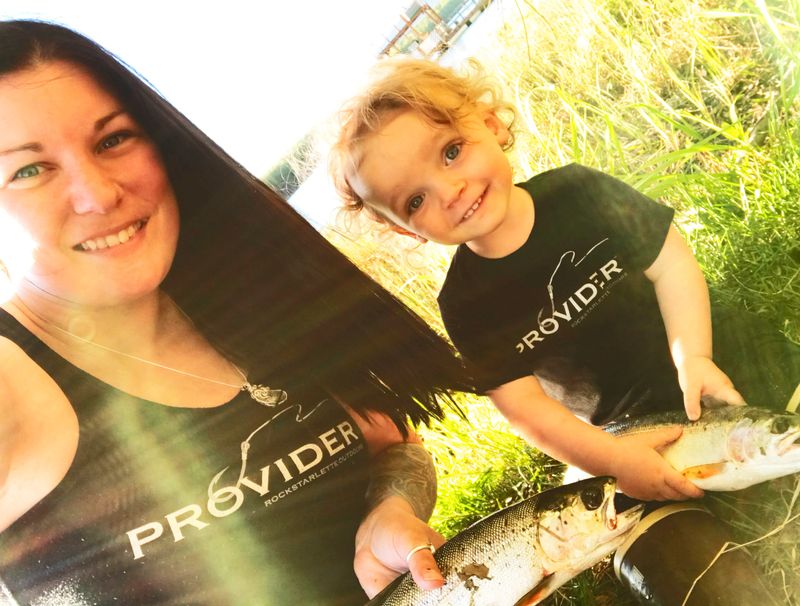 In her own words, "I am a true Alaskan: born and raised. I enjoy doing everything Alaska has to offer: hiking, fishing, hunting, foraging, flying and much more! I love representing Rockstarlette Outdoors. 'Encourage Inspire Empower' is not only a motto to stand by, but its also a lifestyle. I choose to encourage other women, to be inspired by or inspire someone, and to feel empowered every day.






---
Representing RO in Kansas:  Kallie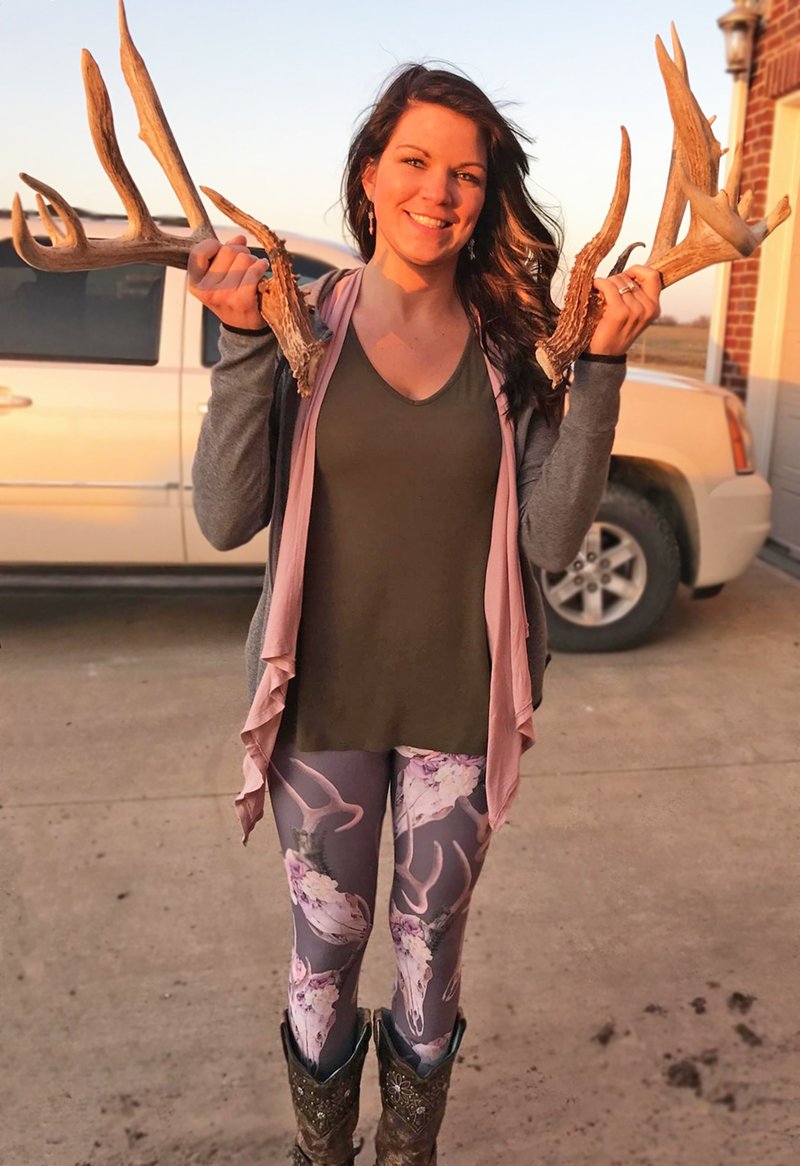 In her own words, "I grew up a small town Missouri girl, and am now a small town Kansas girl. 
I was raised on a farm with longhorn cattle, sheep, goats, horses, and chickens.
Ever since I was a little girl I hunted and fished with my father and I continue to share that knowledge with my children now, who are my world!
I love teaching them about of nature and letting them grow up in the outdoors. I hope they can learn to love, live off of, and respect nature and the land we have. There truly is no better feeling than providing for your family. I love sharing my adventures and harvests with everyone. Being a part of Rockstarlette Outdoors is an amazing experience. To be a part of a team with so many other women that 'Encourage, Inspire, and Empower' other women to get outdoors is truly amazing!
---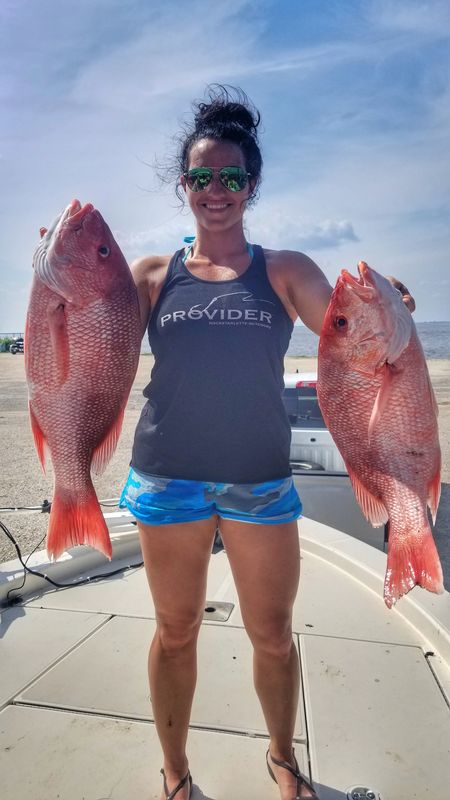 Representing RO in Louisiana: Laikin
In her own words: "I am from Grand Chenier, Louisiana where hunting is known as a religion in this small town. Growing up as my dads sidekick in the outdoors, I've learned so much - from conservation to harvesting. My fondest memories are growing up with my twin brother at my dads feet in a deer stand. I live for new adventures and and making memories. I am into fitness, I am a Certified Personal Trainer who enjoys mud runs and training. Training plays a huge part into hunting it's very beneficial for successful hunts. Although harvesting your own meats and filling the freezer with seafood is the true prize to hunting and fishing - making memories with my family and friends is also what its all about for me. We enjoy frogging, bow hunting, shrimping, crabbing, duck hunting, gator hunting, fishing, bow fishing, small game hunting, and trapping. My favorite thing is fishing tournaments with my dad, we are the true dynamic duo! I love to travel and hunt different places. My husband and I are expecting a little boy soon and we can't wait to raise him up in the outdoors just as we were! "
---
Representing RO in California:  Nancy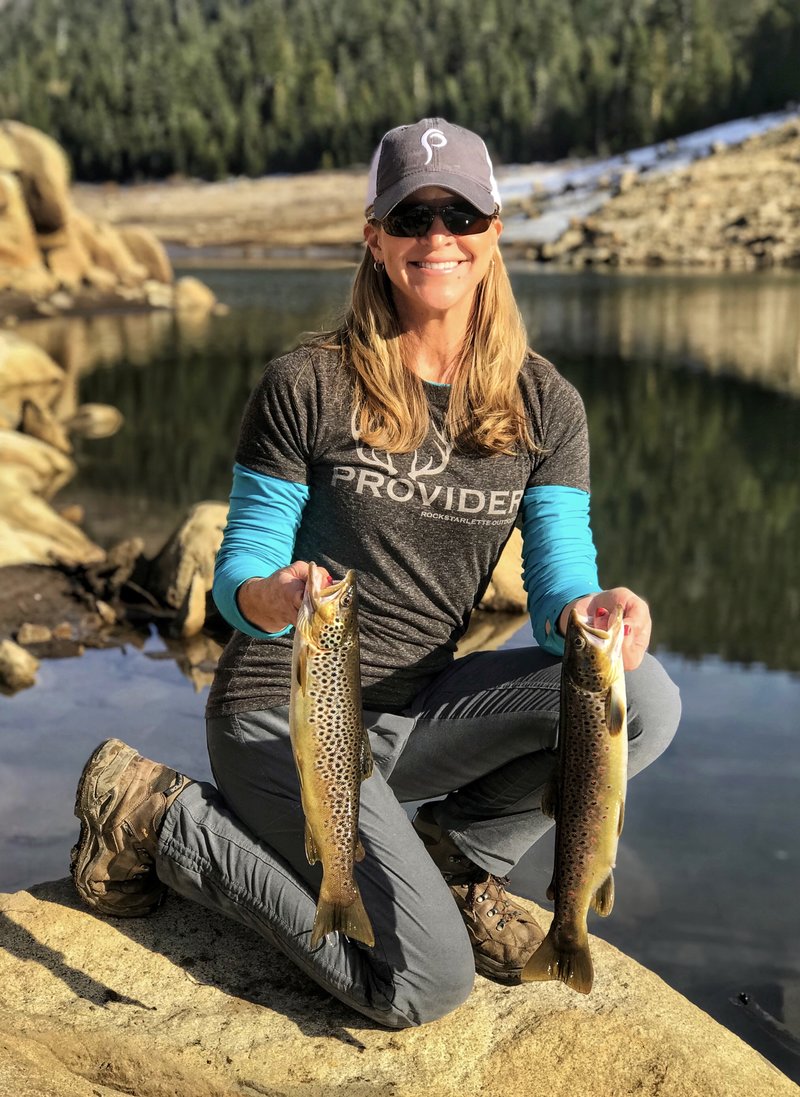 I grew up in a rural community of Northern California and my passion for the outdoors started as a child, enjoying fishing, hiking, and riding horses. As a youngster most evenings I returned from my daily adventures with a dirt mustache, mosquito bites, and a smile from ear to ear! My husband, Joe introduced me to hunting 20+ years ago and my first big game animal harvested was a black bear. I knew from that very moment, hunting would always be a part of my life. All of my hunts are unguided, do-it-yourself and my true passion is backcountry hunting. I love nothing more than traversing high mountains with a week's worth of gear on my back. The adventure and tranquility I find in the wilderness is what keeps me coming back for more. I enjoy sharing those feelings through writing, and have been fortunate enough to be published in Bugle, Turkey Country, Bowhunter, Western Hunter, Eastmans, California Game and Fish, and many more. I am also an avid angler and when it's not hunting season, you will find me trout fishing in high mountain lakes, kayak fishing for leopard shark, salmon, and rock fish. On top of loving to hunt and fish, I have been spending more time foraging and have found a new passion. There is nothing better than putting together a meal from game you have harvested or fish that you have caught along with edibles you have foraged. Being able to provide for my family brings a feeling like no other. I am a true outdoor enthusiast that enjoys sharing my adventures and inspiring women to get into the outdoors in any way I can. Most recently I had been invited to teach a turkey hunting class at a BOW (Becoming an Outdoors Woman) clinic and the highlight was watching other women learn new skills to provide for their families while also giving them a sense of empowerment. Rockstarlette Outdoors motto "Encourage, Inspire, Empower" has always resonated with me and I love the support that this group of women have for each other. There is no other company like it and I'm honored to be a part of it!
---
Representing RO in Alaska and New Zealand: Emmy
In her own words, "My life revolves around the mountains and the 
ocean and has ever since I was young. At 18 I moved to Alaska on my 
own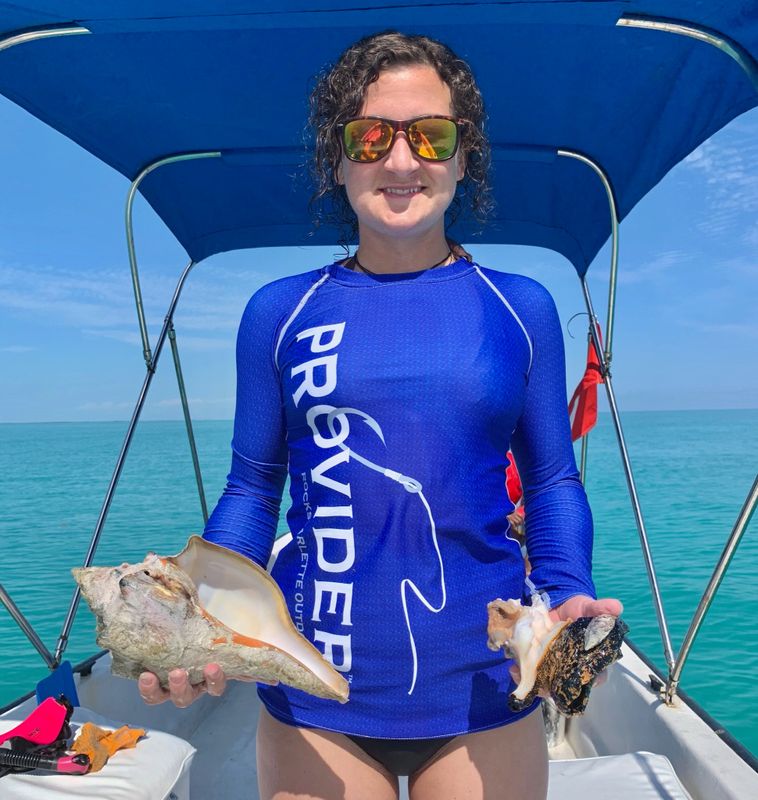 from western MA. In college in AK, I majored in Outdoor Leadership where mountaineering, backpacking and open water kayaking was my classroom setting. I have spent many years working on boats in the commercial fishing industry and in m
ore recent years in the hunting industry taking people on backcountry hunts in New Zealand and Alaska. There are few things more exciting to me then exploring somewhere I've never been, summiting to the top of a mountain to be rewarded with the view, spotting wildlife and harvesting my own food. Travel, sustainable natural resources, conservation, challenging myself, time with friends and family, supporting others, meeting new people, laughing at myself and taking a second to stop and smell the flowers are all things I truly value. I enjoy scuba diving, photography, playing music, cooking, shooting, arts and crafts, and simply relaxing with a cuppa in a cozy spot. On a side note, even though most of my days are spent with no make up and wearing rubber boots, I'm not afraid to get my dirty hands clean, throw on a dress and paint the town red! I'm honored to be chosen to represent a brand that is inspiring to ladies of all ages who enjoy the outdoors." 
---
Representing RO in Texas: Priss
Bio coming soon!
---


Representing RO in Arizona: Charr
Bio coming soon


---
Representing RO in New Mexico: Jessica
Bio coming soon
---
Representing RO in Pennsylvania: Rebecca
In her own words: "I was born and raised in Pennsylvania. I have spent my entire life in the outdoors, I have both my parents to thank for my passions. Since before I could walk, my parents made the wilderness my babysitter. I am an avid hunter of most game, Archery Whitetail, Waterfowl, and Spring Gobbler being top of my list. I love fishing anything and everything, Musky my number one pursuit. I enjoy the hard work and art of Fur Trapping as well. I love hiking and camping, especially in the fall when the leaves are turning. I have been Cross Country Skiing since the age of five...my favorite cardiovascular workout. My newest pursuit has been kayaking and kayak angling, which I have to say has stole my heart. My home life revolves around living off the land...a huge garden, 
Fall and Winter harvests, and alot of firewood fuel our home. I am also very passionate about writing and I find inspiration in the outdoors life that I live everyday. 
I am so proud to be a part of Rockstarlette Outdoors. This company embraces and embodies EVERYTHING that I believe in. I am fortunate to have been raised in an environment that has aloud me to grow in the outdoors, as well as life. I look forward to paying it forward by Encouraging, Inspiring, and Empowering others to do the same."
---
Representing RO in Wyoming: Diane
In her own words, "I am a true Wyoming-ite, born and raised. Wild things and wild places have always been a part of my life. I grew up in a family that enjoyed the outdoors, fishing, canoeing, hunting, camping, snow shoeing and more. I enjoy the outdoors with my family, my friends and helping others savor our wonderful resources. I feed my passion for the out
doors by teaching Hunters Education with the Wyoming Game & Fish Department, pistol and shotgun clinics and survival classes to our local 4h youth. I love the unique, fun clothing line and sisterhood that Rockstarlette Outdoors promotes, and having a matching clothing line for our younger generation speaks volumes for inspiring our youth. Encouraging our sisters to succeed in such a positive environment is powerful." 
---
Representing RO in California: Sasha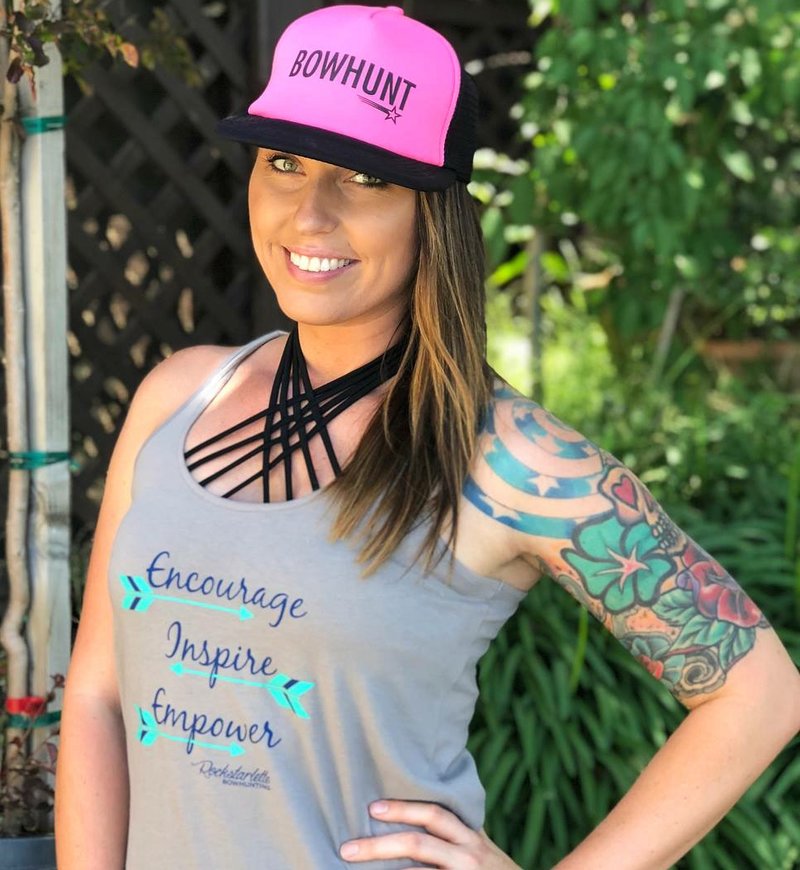 Bio coming soon
---
Representing RO in Minnesota:  Susie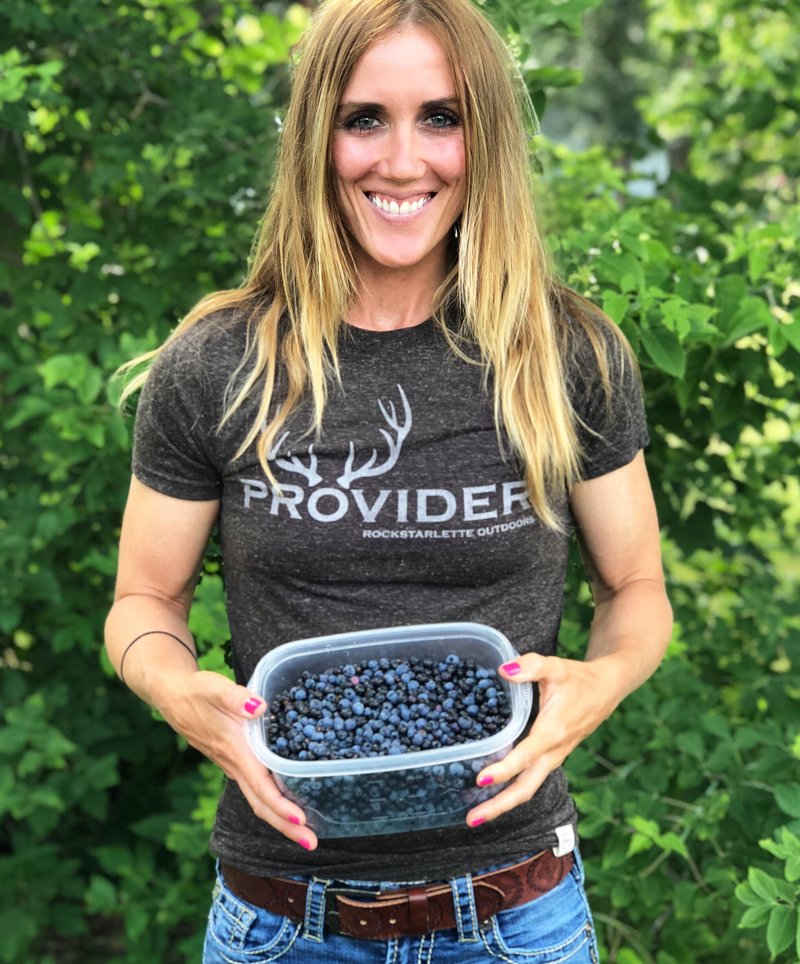 In her own words: "Hi! My name is Susie, and I currently reside in Northern Minnesota. I love hunting and I love fishing!

Fishing has been a part of my life since I was little in some form and has continued throughout. My mom used to take us fishing and I have fond memories of going through her tackle box and playing with her fishing pole (probably messing up everything she had organized). She was an avid fisherwoman and she passed down something that now is a staple in my life. I am also an avid bowhunter and split my wintertime between chasing deer and chasing fish. I also enjoy paddleboarding, exploring, ATVing and snowmobiling. I pretty much just love the outdoors in general!

My husband and I just had a son back in April, so it has been a little more challenging to get out fishing and hunting as much as we used to, but with that comes the opportunity to teach and introduce him to something we both love to do. I also want to show him that as a woman, you can still be independent in your outdoor activities and that women also hunt and fish. 

RO is an amazing company that empowers woman to get out there and do something that drives them, and I am so very happy to be a part of it!"
---
Representing RO in Wisconsin: Jennifer
In her own words, "Growing up in the UP of Michigan and now living in Northern Wisconsin,  I was blessed to have always been surrounded by the outdoors lifestyle. I grew up around fishing and hunting and living off of our summer gardens. I enjoy hunting and fishing as well as hiking, running, bird watching , canning/preserving, foraging for wild edibles, raising chickens and backyard gardening.   I am the secretary for the Lake Superior Safari Club International chapter and have a passion for protecting hunters rights. I also have a huge devotion for introducing and encouraging women to be comfortable in the outdoors.  
---
Representing RO in Canada: Mandy
 In her own words, "I grew up in Northern BC, Canada, where my parents introduced me to the outdoor lifestyle from a very young age. My earliest, and fondest, memories involve fishing for salmon, camping, hunting, hiking in the woods, picking berries, and playing in my mom's garden. I don't think I really appreciated my time in the outdoors, until I missed being outside
 in the fall during my studies at university. I realized what an important impact it had, and continues to have, on my mental health and wellbeing. I feel truly connected to myself, my roots, and the land when I'm outdoors. Being an outdoors woman is an empowering experience. I look to Encourage, Inspire, and Empower other women to get out and enjoy themselves doing any outdoors pursuits!"
---
Representing RO in Texas: Candice
In her own words, "I have had a lifelong passion for the outdoors and hunting! I am based in Central Texas, and am blessed to spend almost every day outdoors, as a land surveyor and as a local bowfishing guide. My love of the outdoors has grown into a passion for conservation, and a drive to share my knowledge with others. When you're truly passionate about something, sharing it with others NEVER becomes work! It has become a tool I can use to help others experience something they've never done before, and to find their own passion for the outdoors! I love the quote by Maxime Lagace: 'By discovering nature, you discover yourself.'"
---
Representing RO in Colorado: Katie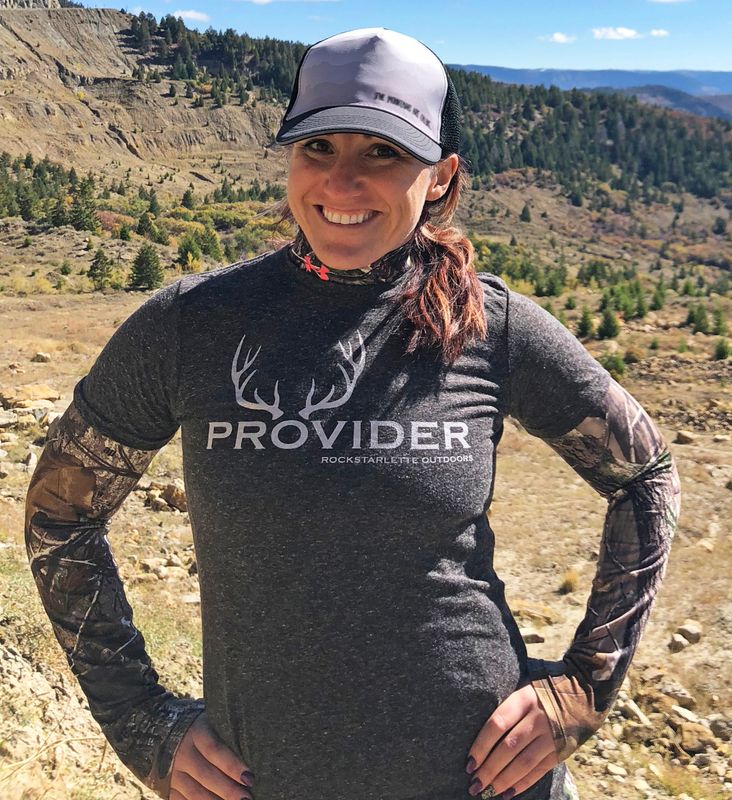 "I am ColoRADo born and raised! 
I currently live in beautiful Western Colorado, with my husband and son. We live for hunting season, while enjoying our time being outdoor enthusiasts! 
One of my other 
passions is trail running, and gym time in what I call my "powerpants" 
aka our amazing Rockstarlette Outdoors leggings! 
There is nothing better then 'living' our company motto: 'Encourage, Inspire, Empower'  and having amazing women come together to support one another!"
---
Representing RO in Montana: Kelsey
Bio coming soon
---
Representing RO in Arizona: Megan
"I am a desert rat and a native of Arizona. Ever since I can remember, my parents made sure we were always outside living life. Being inside watching TV or playing video games wasn't an option. Every weekend, we packed up the truck and headed out on some type of Arizona adventure – fishing, hiking, ex
ploring, camping, boating, four wheeling, riding dirtbikes/quads, etc. I carried these same values into my adult life and I couldn't imagine life without my outdoor activities! Some of my favorite outdoor activities include hiking, backpacking, camping, shooting, hunting for petroglyphs, archery, fishing, four wheeling in my RZR, kayaking, kayak fishing, yoga, and bird hunting! I feel so fortunate to be a part of Rockstarlette Outdoors because the brand empowers women! We live in a world where people would rather be mean/criticize others instead of lifting them up and Rockstarlette Outdoors breaks that mold by bringing women of the outdoors together!" 
---
Representing RO in Arizona: Taylor
In her own words, "I live in San Tan Valley, Arizona. I love everything outdoors and I'm always looking for new exciting adventures. My main passion is bow hunting but I also enjoy going four wheeling, shooting, fishing, camping, and anything that gets me outside. I am a high school softball coach and I am excited to continue to instill the company motto, 'Encourage. Inspire. Empower.' in our team. I was drawn to this company because of the amazing message it sends to women everywhere to always support each other and continue to build others up. I'm beyond excited to be apart of this amazing company!" 
---
Representing RO in Oklahoma: Katie
In her own words, "I am from Tulsa, Oklahoma. I enjoy exploring our states endless outdoor adventures. To simply put it, being submersed in nature calms my soul. My whole family lives for the next chance to get outdoors for some fun whether it be hunting, fishing, scouting, off-roading, boating, camping, archery practice, or gun range days! Scouting public hunting
 land and archery are my passions. I strive to use nature as a learning tool and character building for my children. The realness of the women behind this company is what initially caught my attention. With having two beautiful girls to raise, I'm reminded everyday that women have to empower women. Encourage. Inspire. Empower." 
---
Representing RO in Washington: Shannan 

Bio coming soon
---
Representing RO in Texas: Brooke

Bio coming soon
---
Representing RO In Alaska: Jayme
Jayme was born and raised in Alaska, she has always had a passion for fishing, camping and the outdoors but didn't find her love for hunting until 2012 when she attended her first Rockstarlette Outdoors Women's group hunting trip. She learned to shoot a bow from RO Owner Joni and harvested her first big game animal on the hunt with her bow (a black bear). After that, she had the bug for bowhunting and has been pursuing it every chance she gets. She enjoys volunteering to teach Women's Archery classes for Alaska Department of Fish and Game and is a NASP Certified archery instructor. She is an avid second amendment supporter and enjoys shooting guns and bird hunting.  Jayme calls herself a "crazy hockey mom" cheering over the top at all her son's hockey games.  Jayme always says, "my kids are my world" and gets them outdoors in her beautiful home state of Alaska with her husband, every chance she gets!
---
Representing RO in Virginia: Taylor
Bio coming soon
---
Representing RO in Minnesota: Missy
Bio coming soon
---
Rockstarlette Outdoors is proud to be a sponsor of Maggie Williams Miss Teen USA Arkansas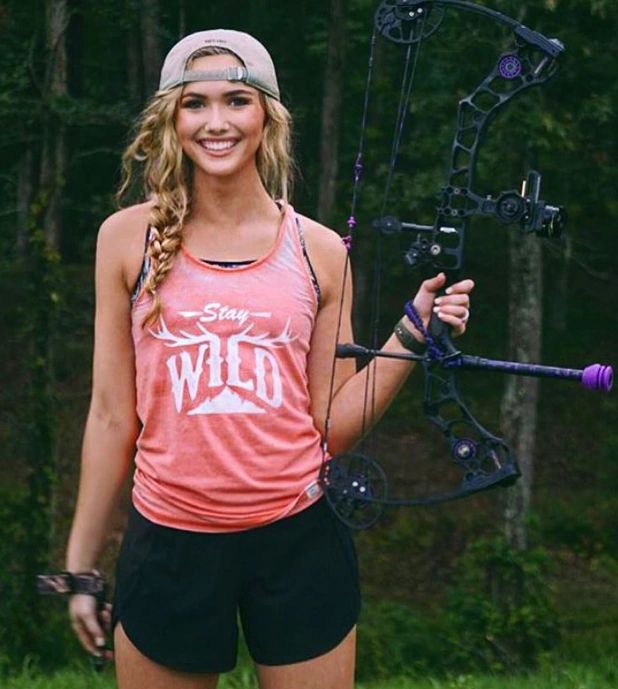 Maggie Williams is an 18-year-old Christian, outdoor enthusiast and archer who loves writing, politics, and all things related to health. Maggie preaches the importance of an active lifestyle and staying heart healthy, with a mantra of love, kindness and living authentically. She is an adrenaline junkie and enjoys traveling and never turns down an adventure. Maggie was Miss Arkansas Teen USA 2019, and competed at the upcoming Miss Teen USA competition in Reno-Tahoe in April 2019; making it into the top 15 Finalists. Rockstarlette Outdoors was proud to be a sponsor of this amazing young outdoors woman who represents our company motto of Encourage. Inspire. Empower!!
---
Message from The Rockstarlette Outdoors Team:
We love to hunt! But more than that, we love to inspire other women to hunt, fish, forage, provide and to get out into the outdoors and find themselves and connect with others!
Follow and connect with us on Facebook or Instagram; we want to hear from you – about your adventures and to help you with your questions etc…! 
Click the Facebook link below and "like" our page! Dont forget to use the drop down menu on Facebook per their new rules – to choose "get notificiations" in order to get updates from us!
https://www.facebook.com/RockstarletteOutdoors
---