Ingredients:
12 Eggs 
1/2 cup heavy whipping cream
1/2 cup grated cheddar cheese 
1/4 cup onion
1/2 lb of wild game sausage or burger
Amount of Garlic, parsley, sea salt, pepper - to your taste level
Cook garlic and onion in a medium skillet for about one minute. 
Add meat to skillet (we used hog meat but could substitute any wild game meat or beef) and cook till browned. 
Preheat oven to 375 degrees.
In a large bowl whisk 12 eggs, 1/2 cup heavy whipping cream. 1/2 cup cheddar cheese, parsley, sea salt and black pepper. 
Grease the bottom of a 8x8 or 9x9 pan. 
Add meat into bottom of pan. If you want to add broccoli or veggies add those next. 
Pour egg mixture next into the pan. 
Top with 1/2 cup of cheddar cheese and bake for 30 minutes!
---
Blackberry Crisp Dessert made from foraged berries, 


shared by California Rockstarlette Outdoors Staffer Nancy!


Blackberry Crisp
Ingredients:
For filling-
3 1/2-4 cups blackberries
1 Tbsp flour
2-4 Tbsp sugar (depending on your sweetness like and the ripeness of your berries)
For topping-
1 1/4 cups of Oats
1/4 cup melted coconut oil + 1 Tbsp butter
1/4 cup of maple syrup or agave nectar
1/4 cup flour
1 tsp pumpkin pie spice or cinnamon
1/2 cup shredded coconut (optional)
1/4 cup chopped nuts (optional)
Instructions:
1. Preheat oven to 350 degrees
2. In one bowl for filling~ mix together berries, sugar and flour 
3. In separate bowl for topping~ mix oats, flour, oil/butter, and syrup or agave nectar
4. Lightly grease a glass 9 inch pie dish
5. Place berries in dish and top with mixture of oats
6. Bake for 40-45 minutes until crust is lightly golden brown
7. Make sure it cools a bit before you sneak your first bite or you will burn your tongue!!! LOL
8. Eat with vanilla ice cream or yogurt for breakfast, lunch, or dinner! 
Note: You can use almond flour and gluten free oats to make this recipe gluten free. I also use coconut sugar to make it a bit more healthier and I use a lower amounts of sugar because I don't like too much sweetness.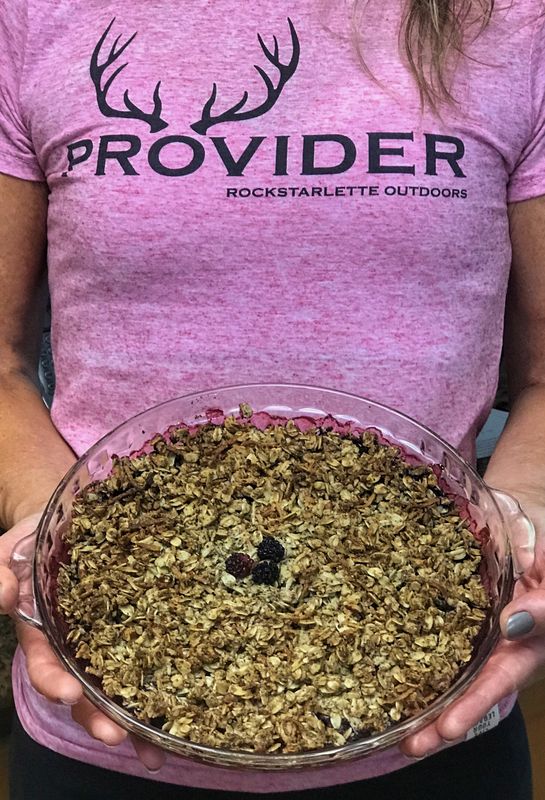 ---
RO staffer Jessica definitely represents what it means to be a Provider!! 

From field to plate: here's her recipe for

Bacon Wrapped Ptarmigan poppers

which she harvested herself in Alaska!!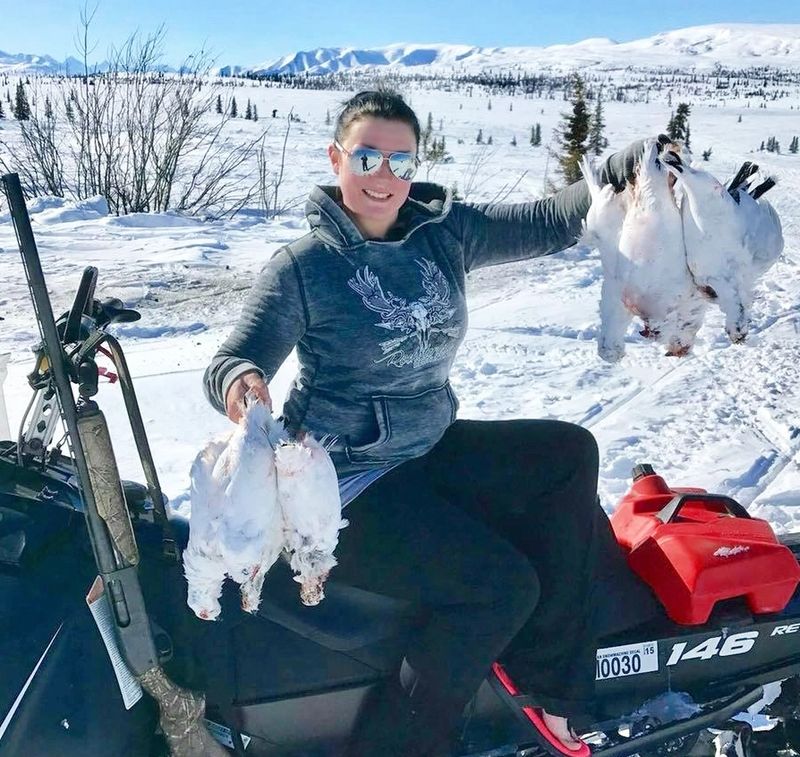 Bacon Wrapped Ptarmigan poppers
6 Ptarmigan (12 breasts) 
1 bell pepper I used the orange peppers (or Jalapeño is awesome also!)
Yoshida's marinade "cracked pepper and garlic" 

12 strips of bacon
Tooth picks to hold everything in place

Marinade the breasts for at least 2 hours, the longer the better. 
Cut peppers in long strips. Take marinated breast and place one pepper strip on each breast and wrap with bacon. 
Use the tooth picks to hold in place. Grill on the BBQ until everything is well cooked. 15-20 mins. Enjoy!! 

---
Homemade Wild Game Chili from Rockstarlette Outdoors owner,

Joni Marie

(This recipe is Gluten Free)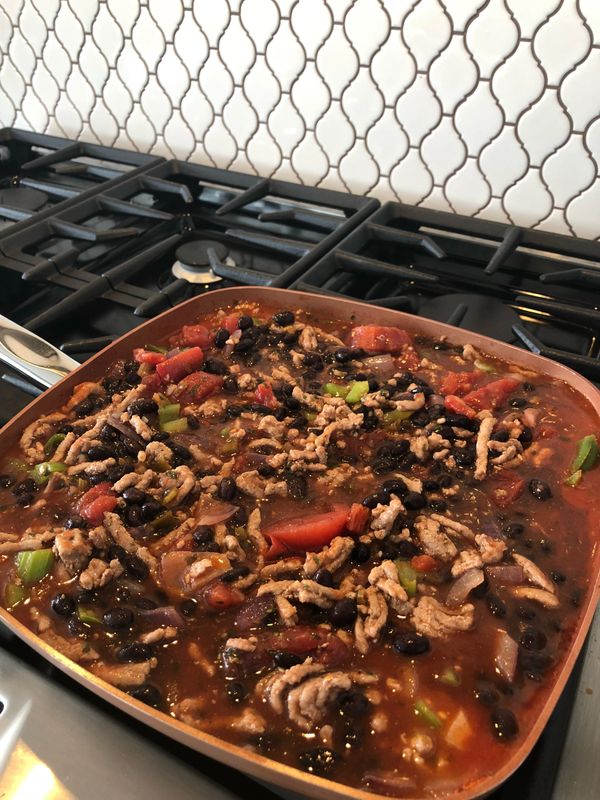 1 lb of ground wild game meat (I have used wild turkey, moose, bear and caribou)
2 cans of stewed tomatoes
2-3 stalks of celery chopped
1/2 of an Anaheim Jalapeño pepper, chopped (vary this according to your tolerance for spicy food)
A pinch of Cayenne pepper (vary this according to your tolerance for spicy food)
2-3 cloves of garlic, chopped
1/2 purple onion, chopped
2 cans of beans -rinsed and drained (I like to use black beans but any bean could be used)
Shredded cheese as a topping, or sour cream
Cook wild game burger in pan with olive oil, garlic, onion and celery
Once game meat is cooked, add in parsley, oregano, cayenne pepper and jalapeño - stir and cook a few minutes
Add tomato paste, stewed tomatoes and beans (rinse and drain beans from can before adding)
Simmer everything together over low heat for 20-30 minutes, 
Option: Serve topped with cheese or sour cream
I did not add any salt in this recipe as I am on a low salt diet - the stewed tomatoes have some salt in 
them and I found it to be plenty - but you could add salt to taste to this recipe if you wanted!! Enjoy!
---
Elk and Wild Chanterelle Mushroom Stroganoff

from Rockstarlette Outdoors California Rep Nancy (she foraged the Chanterelle Mushrooms herself and harvested the Elk)!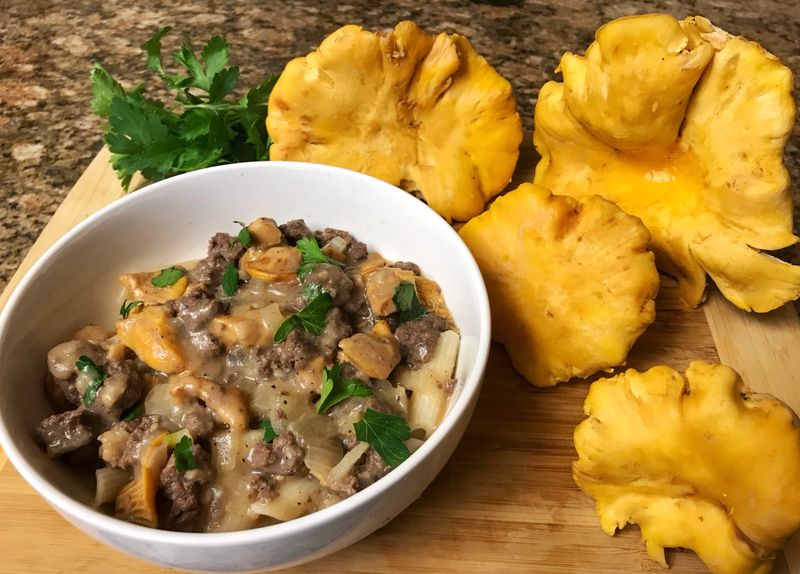 Ingredients:
1 lb ground elk or venison
1 yellow onion chopped
2 cups chopped wild Chanterelle or other mushrooms of your choice
1 1/2 cups coconut milk or regular milk
2 cups beef broth
2 cubes or 2 tsp of dried beef bouillon
1 tbsp Worcestershire sauce
1/2 cup coconut milk or regular milk
2 tbsp flour
1/2 tsp salt
1/2 tsp pepper
Parsley for garnish
2 cups egg noodles or small pasta noodles of your choice
Prepare noodles and set aside

In large skillet over medium heat brown elk and remove from pan. Leave about 1 tbsp grease in pan. If your meat is super lean, you can add a bit of butter to pan

Add onions and mushrooms to pan and season with salt and pepper. Sauté about 5-7 minutes stirring frequently

Add beef broth, 1 1/2 cup milk, bouillon, and Worcestershire sauce to pan

In small bowl, whisk together remaining milk and flour until smooth. Whisk into pan until smooth.

Return meat to pan and simmer for 5-10 minutes

Toss prepared noodles into sauce. Add salt and pepper to taste and garnish with parsley
Note: You can use a variety of ground meat for this dish, but I prefer wild game...preferably elk or venison. I used foraged wild Chanterelle mushrooms, but you can use different types as well. Using coconut milk is the non-dairy version (which is how I make it) and I also use gluten free noodles, but you can use whatever you prefer.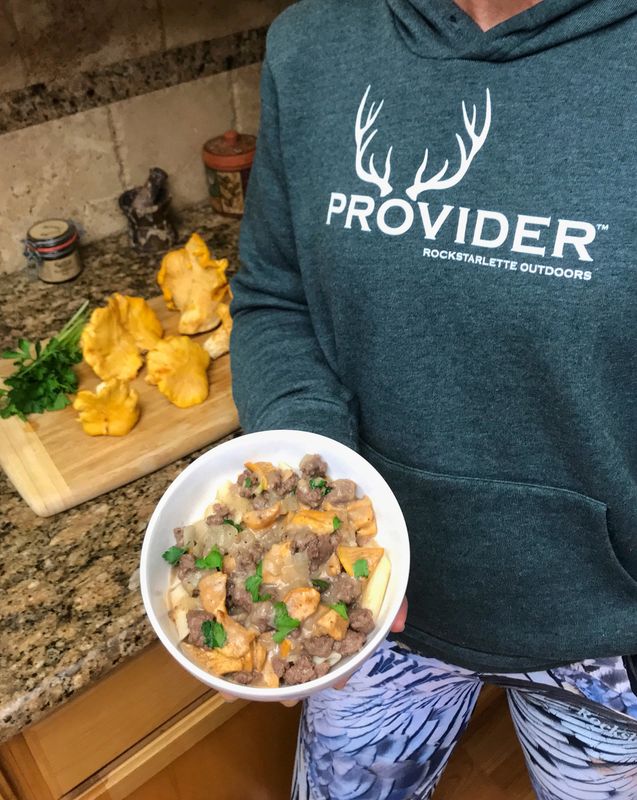 ---
Are you searching for new ways to prepare your turkey harvest? 
Canadian RO Brand Rep Marisa shared her 

Wild Turkey Cordon Bleu

 
recipe




Turkey Cordon Bleu 
1 wild turkey breast
8 thin slices of ham
6 slices of Swiss cheese 
1 egg
1/2c water 
1/2c panko bread crumbs
1/2c Parmesan cheese
2 tbsp all purpose flour 
2 tbsp Greek seasoning 
Directions:
•preheat oven to 350
•butterfly & pound turkey breast to even thickness
•cover surface of turkey with ham slices 
•cover ham with Swiss slices 
•roll tightly and secure with toothpicks 
•combine panko, Parmesan, flour & Greek seasoning in a bowl, set aside. 
•mix egg & water in a bowl to creat egg wash
•coat turkey in egg wash 
•roll turkey in panko seasoning 
•set onto greased pan & bake 45minutes to 1 hour. (Or Until internal temp reaches 160) 
---
Rockstarlette Outdoors Nebraska Staffer Angie, grows her own veggies and herbs!

Here is her amazing personal recipe to make 15 pints of pasta sauce


Homemade Garden Fresh Pasta Sauce:
2 Tbsp Extra Virgin Olive Oil




21 Cups of chopped Tomatos




3 cups of Onions, chopped


42 oz of tomato paste
3 1/2 tips pepper
7 tsp sugar
7 tsp Parsley
3 1/2 tsp Basil
2 Whole Garlic Bulbs
12 tsp Sea Salt
5 1/4 Tsp Chicken Bouillon
Chop and smash garlic w/ sea salt
Heat olive oil and sauce onions and garlic
Stir in/combine all ingredients in pot, bring to simmer, then cool before placing in jars

---
Canadian RO Brand Rep Marisa shared her

Puffball Mushroom Pizza
recipe from puffball mushrooms she foraged! (cooked on the BBQ)




Preheat BBQ to 400 degrees 
•Slice puffball mushroom in one inch thick slices. (It will shrink when cooked) 
•remove skin 
•brush with oil and BBQ 8-10 minutes per side. 
•remove from BBQ and add sauce & desired toppings. (Caesar dressing & chicken, red pepper, tomato, broccoli & cheese is my personal favourite) 
•return to BBQ for aprox 5 minutes, or until cheese is good and melted. 


---
Canadian RO Brand Rep Marisa shared her

Jalapeño Duck Poppers

 
recipe from ducks she harvested herself!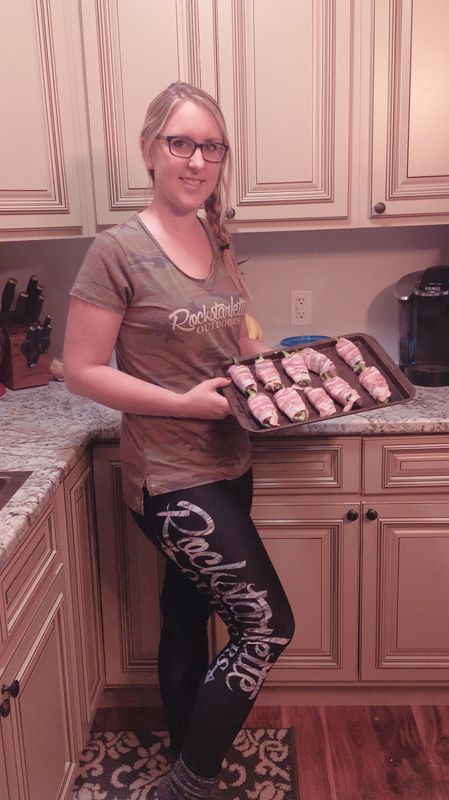 Jalapeño duck poppers 
2 duck breast
6 large jalapeño peppers 
1/4c orange juice 
2tbsp worcestershire sauce 
2tbsp soya sauce 
1tsp garlic 
Salt & pepper to taste 
2c cream cheese 
1c cheddar cheese shredded 
1lb bacon 
Mix orange juice, worcestershire sauce , soya sauce, garlic, salt & pepper in large glass bowl. 
Marinade duck breasts over night. 
Preheat oven to 400
Slice jalapeño peppers length wise. Remove seeds. 
Mix cream cheese & cheddar. 
Slice duck breast. 
Fill each half pepper with cream cheese mixture. Top with a slice of duck breast. Wrap with bacon. 
Bake for 30 minutes. 
Serve immediately. 
---
Venison Stew in the Pressure Cooker
from Rockstarlette Outdoors Oklahoma Field Staffer Courtney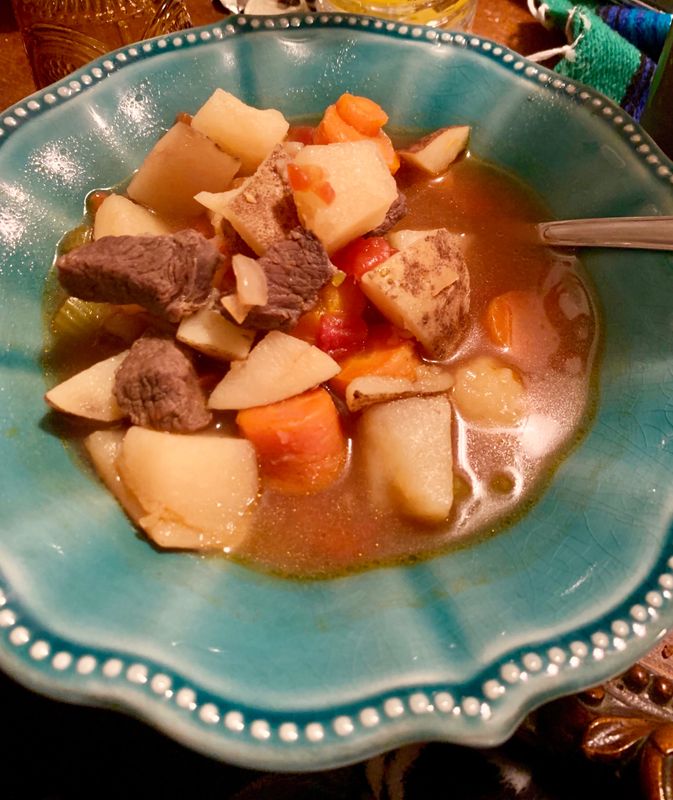 Venison Stew
Prep Time: 20 minutes 
Cook Time: 40 minutes + release and heating time 
Ingredients: 
1 Tbsp. Olive Oil 
2 lbs Venison, diced with all silver skin removed 
1 tsp. pink Himalayan salt 
¾ tsp. black pepper 
Seasoning salt to taste (I used Chupacabra Fine Meat Rub & Season All-my fave!) 
4 cups diced potatoes – I left the skin on 
2 cups diced carrots 
1 cup diced celery 
1 large onion, diced – I used a yellow onion 
2 garlic cloves, minced 
1 15 oz. can diced tomatoes 
4 cups unsalted beef broth 
A couple dashes of Worcestershire sauce (I used Lea & Perrins) 
1. Dice the vegetables and mince the garlic, set aside in a bowl. 
2. Cut the venison into bite-sized pieces. Make sure you remove all the silver skin, to ensure the meat is tender and not chewy. 
3. Add the olive oil to the base of your pressure cooker and add the venison. 
4. Add in your spices and seasoning, turn on the pressure cooker to "Saute" or "brown" setting and set the timer for 10 minutes. 
5. Allow the venison to cook for 5 minutes and add the bowl of vegetables and garlic. Saute until the cycle ends with the lid off. 
6. Add the tomatoes, broth and Worcestershire sauce, stir well and secure the lid. 
7. Select High pressure and cook for 30 minutes. 
8. Once the cycle ends, allow it to naturally release the pressure for 10 minutes before turning the pressure release knob. 
9. Allow the pressure cooker to vent fully before removing the lid and serve!
---