Ingredients:
12 Eggs 
1/2 cup heavy whipping cream
1/2 cup grated cheddar cheese 
1/4 cup onion
1/2 lb of wild game sausage or burger
Amount of Garlic, parsley, sea salt, pepper - to your taste level
Cook garlic and onion in a medium skillet for about one minute. 
Add meat to skillet (we used hog meat but could substitute any wild game meat or beef) and cook till browned. 
Preheat oven to 375 degrees.
In a large bowl whisk 12 eggs, 1/2 cup heavy whipping cream. 1/2 cup cheddar cheese, parsley, sea salt and black pepper. 
Grease the bottom of a 8x8 or 9x9 pan. 
Add meat into bottom of pan. If you want to add broccoli or veggies add those next. 
Pour egg mixture next into the pan. 
Top with 1/2 cup of cheddar cheese and bake for 30 minutes!
---
Venison Meatloaf (on the grill or in the oven)


Rockstarlette Outdoors Field Staffer Courtney shares her Venison Meatloaf 
recipe:
1.5 lbs ground venison (could substitute any wild game)
3 slices of bread, torn up
Sauce: 12 tablespoons brown sugar
Shape into a loaf
Mix ingredients for sauce and spread over meatloaf
Bake in a preheated oven 350 degrees for 1.5 hours
Or on the Grill!
---
Strawberry Rhubarb Infused Vodka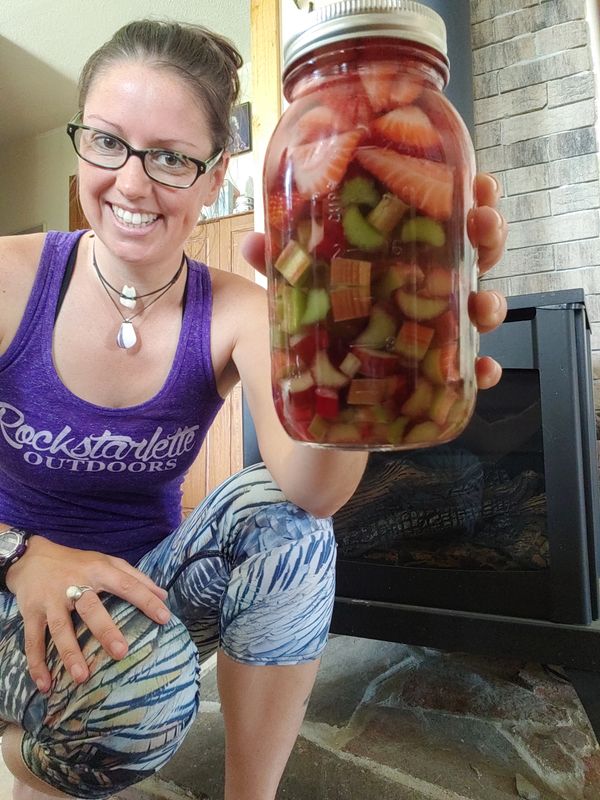 We're pretty sure you need some delicious Strawberry Rhubarb Vodka in your life!! 
Check out this recipe from Rockstarlette Outdoors staffer Kelsey:
-Cut up strawberries and rhubarb and put it in a jar. (This is a good way to use up those super dark, almost squishy strawberries that seem to be in every package)
-Pour vodka in the jar, enough to cover the fruit. Cover tightly. 
-Let bottle sit on the counter for 2-3 days. 
-Strain off the liquid and toss out the strawberries and rhubarb. (They lose their color and get too soft)
-Chill the vodka, and mix with lemonade, Sprite, etc. 
Enjoy! 
---


Duck stir fry-Cooked on a blackstone cast iron griddle: from RO staffer Taylor
Ingredients: 
Duck breast Bacon 
One Green pepper 
Potatoes 
Rice 
 Prep: 
-Cut up duck breast, bacon & potatoes into small pieces 
-Season potatoes with Onion powder, Garlic powder, & Old bay 
 -Put the duck, peppers & bacon into a bowl and season with Garlic powder, Onion powder, Meat tenderizer, worcestershire sauce, Soy sauce , Hot sauce ,Creole seasoning 
 -cook your potatoes first, they'll take the longest 
 -cook your rice while the potatoes cook, but keep those separate 
-once your potatoes are done, set them to the side and cook your duck, bacon and green peppers together 
-after a few minutes it should be getting close to done so add in your rice with everything and mix it all together -once your rice has browned with everything take it off the grill and enjoy!!


---


Dandelion Jelly 
Dandelion Jelly tastes like honey. And it is naturally a beautiful yellow! Here is a little info from 
Rockstarlette Outdoors
 staffer Emmy on how she makes hers! 
It's a little tedious pulling out and using only the petals (but the greens can make it more bitter and change the color). 
Steep the petals overnight (can also drink as tea) and use cheesecloth to strain all liquid from the petals 
Bring them to a boil in water with organic cane sugar, fresh mandarine juice (or any citrus) and fruit pectin 
I like to add cinnamon for taste and chia seeds for nutritional value and natural thickener 
The Chia seeds will "gel" due to their soluble fiber content and hydrophilic shell! 
Afterwards I gave the jars a water bath to seal for storage!!
---
Homemade Wild Game Chili from Rockstarlette Outdoors owner, Joni Marie
(This recipe is Gluten Free)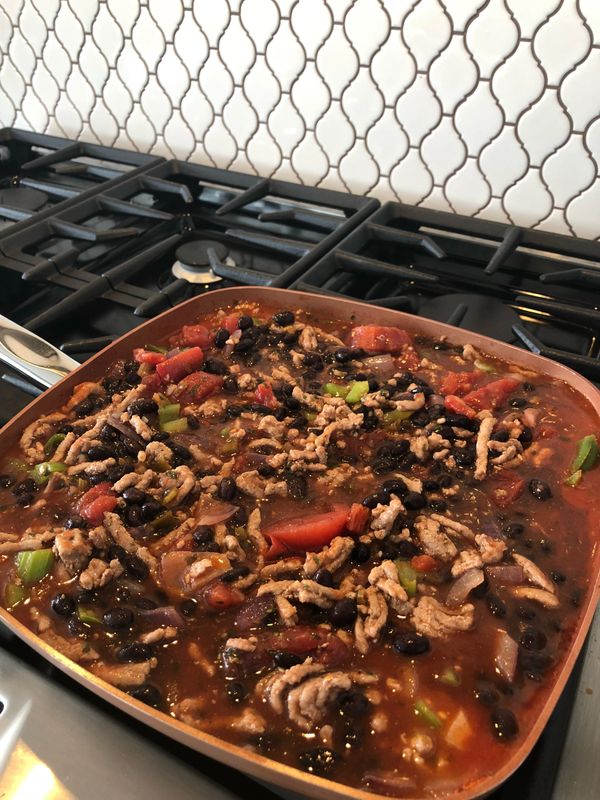 Ingredients:
1 lb of ground wild game meat (I have used wild turkey, moose, bear and caribou)
2 cans of stewed tomatoes
1 can of tomato paste
2-3 stalks of celery chopped
1 tbsp of parsley
1/2 of an Anaheim Jalapeño pepper, chopped (vary this according to your tolerance for spicy food)
A pinch of Cayenne pepper (vary this according to your tolerance for spicy food)
Olive oil
2-3 cloves of garlic, chopped
1 Tbsp oregano
1/2 purple onion, chopped
2 cans of beans -rinsed and drained (I like to use black beans but any bean could be used)
Shredded cheese as a topping, or sour cream

Cook wild game burger in pan with olive oil, garlic, onion and celery
Once game meat is cooked, add in parsley, oregano, cayenne pepper and jalapeño - stir and cook a few minutes
Add tomato paste, stewed tomatoes and beans (rinse and drain beans from can before adding)
Simmer everything together over low heat for 20 minutes, 
Option: Serve topped with cheese or sour cream
**I did not add any salt in this recipe as I am on a low salt diet - the stewed tomatoes have some salt in 
them and I found it to be plenty - but you could add salt to taste to this recipe if you wanted!! Enjoy!
---
Elk and Wild Chanterelle Mushroom Stroganoff from Rockstarlette Outdoors California Rep Nancy (she foraged the Chanterelle Mushrooms herself and harvested the Elk)!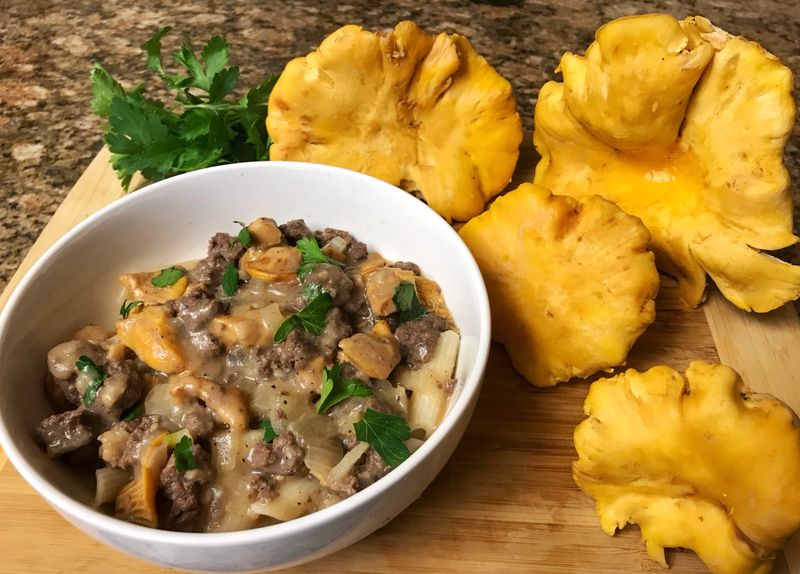 Ingredients:
1 lb ground elk or venison
1 yellow onion chopped
2 cups chopped wild Chanterelle or other mushrooms of your choice
1 1/2 cups coconut milk or regular milk
2 cups beef broth
2 cubes or 2 tsp of dried beef bouillon
1 tbsp Worcestershire sauce
1/2 cup coconut milk or regular milk
2 tbsp flour
1/2 tsp salt
1/2 tsp pepper
Parsley for garnish
2 cups egg noodles or small pasta noodles of your choice
Prepare noodles and set aside
In large skillet over medium heat brown elk and remove from pan. Leave about 1 tbsp grease in pan. If your meat is super lean, you can add a bit of butter to pan
Add onions and mushrooms to pan and season with salt and pepper. Sauté about 5-7 minutes stirring frequently
Add beef broth, 1 1/2 cup milk, bouillon, and Worcestershire sauce to pan
In small bowl, whisk together remaining milk and flour until smooth. Whisk into pan until smooth.
Return meat to pan and simmer for 5-10 minutes
Toss prepared noodles into sauce. Add salt and pepper to taste and garnish with parsley
Note: You can use a variety of ground meat for this dish, but I prefer wild game...preferably elk or venison. I used foraged wild Chanterelle mushrooms, but you can use different types as well. Using coconut milk is the non-dairy version (which is how I make it) and I also use gluten free noodles, but you can use whatever you prefer.
---
Venison or Bear Cabbage Rolls from Rockstarlette Outdoors staffer Mandy: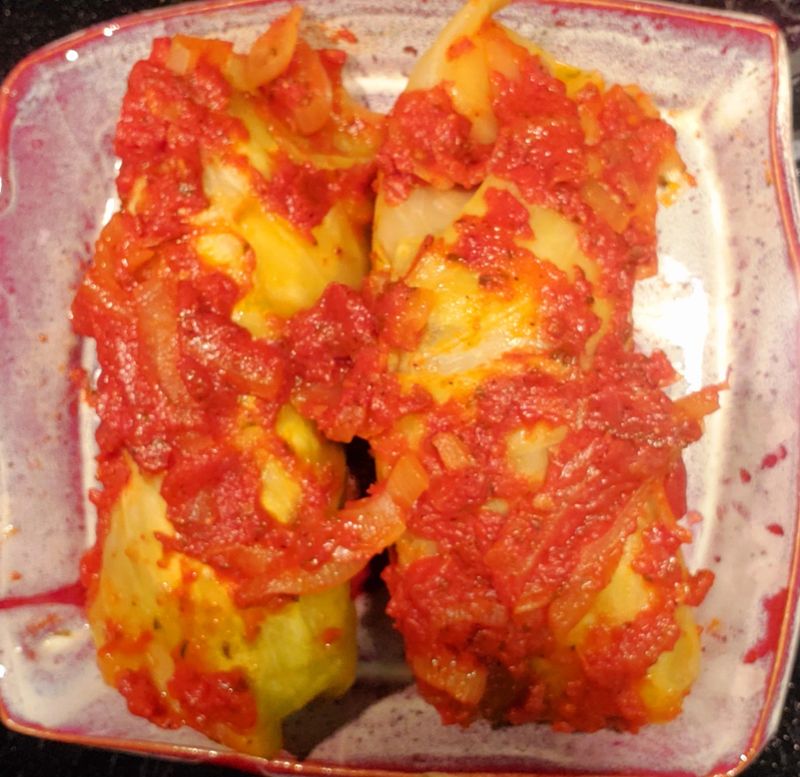 - 1 large frozen/boiled cabbage head (whichever works for you).
For the filling:
- 1& 1/2 lbs ground game (I used a bear/mule deer mix)
- 1 tsp onion powder 
- 1 tsp garlic powder 
- 1 tsp Hungarian paprika 
- 1 tsp fennel seeds
- 1 tsp sea salt 
- 1 tsp ground black pepper 
- 2 eggs
- 1 small can tomato paste 
- 1 cup cooked rice
For the sauce to go on top:
- 1 large onion sliced 
- 3 cloves of garlic 
- 1 quart jar or large can diced tomatoes 
- 1 small can tomato paste 
- 1 tbsp apple cider vinegar 
- 1 tbsp brown sugar 
- 2 tsp parsley flakes 
- 1 tsp salt
- 1 tsp pepper 
- 1 tsp Hungarian paprika 
I started with preparing the sauce, by sautéing the onion in about 1tbsp of butter until translucent, and adding the garlic, followed by the rest of the sauce ingredients. I let it simmer for 20mins on low-med heat, stirring occasionally. 
Next I combined the ground meat with all of the filling ingredients, in a large bowl, and mixed it together with my hands. 
The tricky part is wrapping it. I scooped about half a cup of meat mixture onto the large outer wrapper leaves of my sour cabbage, and just rolled it up, making sure to tuck in the ends. 
Place your rolls in a baking dish, or pan, cover them with the sauce mixture, and cover your baking dish with tinfoil or lid, depending on what you use. 
Put them in the oven at 350°F for 1 hour & 20 mins and enjoy! 
---
Deer Heart Fajitas
Canadian staffer Mandy Starnes is sharing her deer heart fajitas recipe:
- 1 deer heart 
-1 medium bell pepper sliced
- 1 Tbsp olive oil
- 4 Tbsp lime juice 

- 1 tsp ground cumin
- 1 tsp chilli powder
- 1 tsp paprika 
- 1 tsp ground black pepper
- 1/2 - 1 tsp salt
- 1/2 med white onion
- 3 cloves of garlic crushed
First trim up the deer heart and cut into small strips. Put the heart in a bowl with the lime juice and spices, and garlic. Mix together and let sit for 10 - 30 mins, depending on how spicy, and how much lime flavour you like. Next heat up a skillet with the olive oil on medium heat. Add the onion and cook until the onion becomes transparent. Add the deer heart that has been marinating. Brown the heart, and then add the pepper slices, and cook for approximately another 10 minutes. Total cook time about 30 mins. Serve on a tortilla with sour cream, or avocado, salsa, or lettuce if you prefer. I ate mine with sour cream and some green salsa which I had made last summer!
Rockstarlette Outdoors Field Staffer Nancy Rodriguez shares her Turkey Schnitzel recipe which she modified from a MeatEater recipe
Can be prepared Gluten Free
Ingredients:
1 boneless/skinless turkey breast
Salt
Season salt (Not needed, but I add it for a smidge more flavor)
Pepper
1 cup flour (or almond flour for gluten free)
2 eggs beaten with a little water
2 cups Panko breadcrumbs (you can find these gluten free too)
Vegetable oil (I use coconut oil)
1 lemon cut into wedges
Fresh Parsley (not needed, but adds to the yum factor)
Cut turkey breast into 6 pieces (roughly 4-5 ounces ea)




Place pieces one at a time between plastic wrap




Using a meat mallet, pound breast until they are about 1/3 inch thick




Season your meat with your salts (don't over salt) and pepper




Place beaten eggs, flour, and breadcrumbs on separate plates.




Dip the turkey pieces first in flour, then in egg, and final coat in breadcrumbs




Meanwhile heat 1/3 inch oil in heavy frypan over high heat (I tend to use less oil. Just enough for a searing effect)




Fry the schnitzel until golden brown on one side, then flip to other side and repeat until golden brown and meat is done.




Drain on plate with paper towels




Season to your liking and squeeze lemon juice over schnitzel.




I like to garnish mine with fresh parsley from the garden




Enjoy!
---
Marisa's Wild Turkey Cordon Bleu recipe
1 wild turkey breast
8 thin slices of ham
6 slices of Swiss cheese 
1 egg
1/2c water 
1/2c panko bread crumbs
1/2c Parmesan cheese
2 tbsp all purpose flour 
2 tbsp Greek seasoning 
Directions:
•preheat oven to 350
•butterfly & pound turkey breast to even thickness
•cover surface of turkey with ham slices 
•cover ham with Swiss slices 
•roll tightly and secure with toothpicks 
•combine panko, Parmesan, flour & Greek seasoning in a bowl, set aside. 
•mix egg & water in a bowl to creat egg wash
•coat turkey in egg wash 
•roll turkey in panko seasoning 
•set onto greased pan & bake 45minutes to 1 hour. (Or Until internal temp reaches 160) 
---
Marisa shares her Puffball Mushroom Pizza
recipe from puffball mushrooms she foraged! (cooked on the BBQ)



Preheat BBQ to 400 degrees 
•Slice puffball mushroom in one inch thick slices. (It will shrink when cooked) 
•remove skin 
•brush with oil and BBQ 8-10 minutes per side. 
•remove from BBQ and add sauce & desired toppings. (Caesar dressing & chicken, red pepper, tomato, broccoli & cheese is my personal favourite) 
•return to BBQ for aprox 5 minutes, or until cheese is good and melted. 
Enjoy!!
---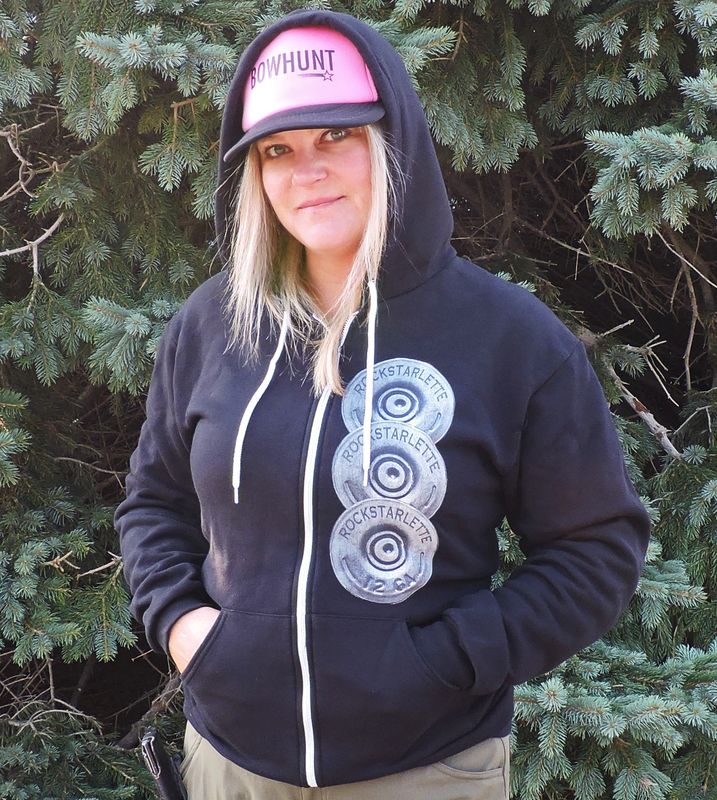 Venison Stew in the Pressure Cooker from Rockstarlette Outdoors Oklahoma Field Staffer Courtney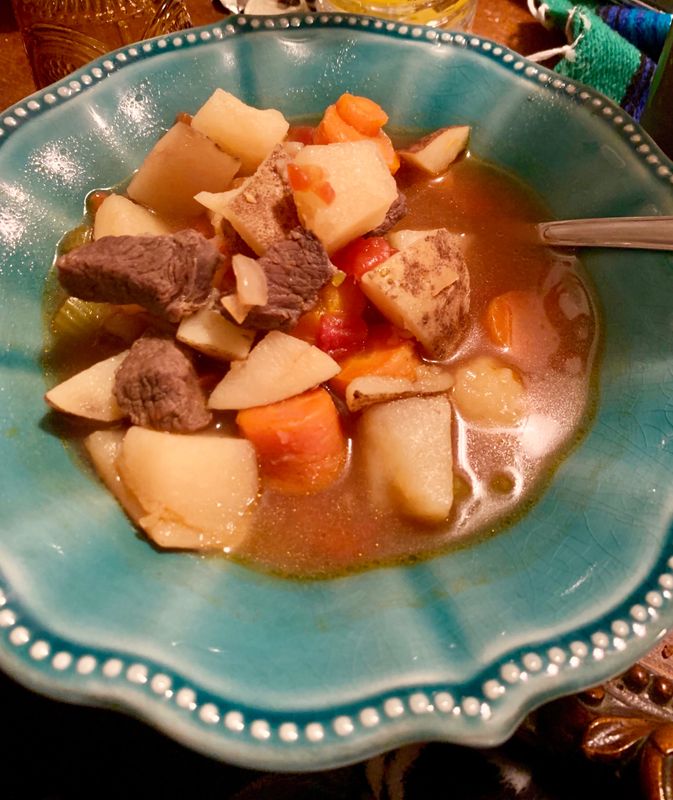 Venison Stew

Prep Time: 20 minutes 
Cook Time: 40 minutes + release and heating time 
Ingredients: 
1 Tbsp. Olive Oil 
2 lbs Venison, diced with all silver skin removed 
1 tsp. pink Himalayan salt 
¾ tsp. black pepper 
Seasoning salt to taste (I used Chupacabra Fine Meat Rub & Season All-my fave!) 
4 cups diced potatoes – I left the skin on 
2 cups diced carrots 
1 cup diced celery 
1 large onion, diced – I used a yellow onion 
2 garlic cloves, minced 
1 15 oz. can diced tomatoes 
4 cups unsalted beef broth 
A couple dashes of Worcestershire sauce (I used Lea & Perrins) 
1. Dice the vegetables and mince the garlic, set aside in a bowl. 
2. Cut the venison into bite-sized pieces. Make sure you remove all the silver skin, to ensure the meat is tender and not chewy. 
3. Add the olive oil to the base of your pressure cooker and add the venison. 
4. Add in your spices and seasoning, turn on the pressure cooker to "Saute" or "brown" setting and set the timer for 10 minutes. 
5. Allow the venison to cook for 5 minutes and add the bowl of vegetables and garlic. Saute until the cycle ends with the lid off. 
6. Add the tomatoes, broth and Worcestershire sauce, stir well and secure the lid. 
7. Select High pressure and cook for 30 minutes. 
8. Once the cycle ends, allow it to naturally release the pressure for 10 minutes before turning the pressure release knob. 
9. Allow the pressure cooker to vent fully before removing the lid and serve!
---
Check back!! We add new recipes often!!
---